News
August 15, 2018
Award Supporting Early Career Scientists Aims to Reduce Future Shortage of Lupus Researchers
Today, the Lupus Foundation of America announced the recipients of its 2018 Gary S. Gilkeson Career Development Award (CDA), created to address the increasing challenges faced by early career scientists working toward establishing a lupus research career. The 2018 recipients are Dr. Joyce Chang, attending physician in the Division of Rheumatology at Children's Hospital of Philadelphia, and Dr. Paul Hoover, a newly appointed instructor in Medicine and Rheumatology attending at Brigham and Women's Hospital in Boston.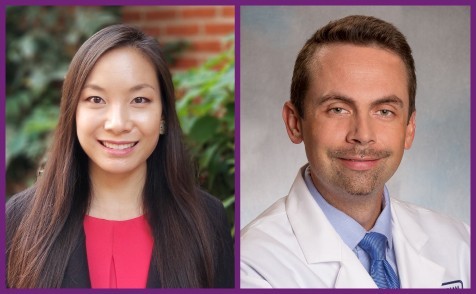 The CDA provides funding for the most critical areas of lupus research and is intended to facilitate the professional development of rheumatology, nephrology, and dermatology fellows who are interested in forming a career as an independent clinician-scientist at an academic, medical, or research institution. The award supports these fellows at a critical and challenging time in their careers – when they must make difficult decisions about their future paths.
"Beyond funding, one of the most commonly cited barriers by rheumatologists to establishing an academic research career is the lack of mentorship," said Dr. Karen H. Costenbader, Chair of the Lupus Foundation of America Medical-Scientific Advisory Council. "The Foundation's Career Development Award is helping to fill the critical need for more lupus-focused researchers by filling the gap in mentorship, funding and offering continued support through our medical community. If we don't support scientists in the lupus research field, we won't have the knowledge, studies and advances needed to care for individuals living with this complex disease."
Because of the complexity of lupus and the shortage of researchers in the field, grantees are required to work with an established clinical scientist during their study. This mentorship component of the award ensures grantees have the support and guidance needed throughout the period of their research.
"When I received the Career Development Award last year, it gave me the opportunity and support I needed to establish a research career path," said Dr. Jessica Turnier, 2017 CDA recipient who recently received a junior faculty appointment as a Clinical Lecturer at Michigan Medicine Pediatric Rheumatology Clinic at C.S. Mott Children's Hospital. "The ability to design and pursue my own research to study lupus nephritis allowed me to develop both a unique niche and the necessary skills to become a successful young researcher. Additionally, the preliminary data I generated is now the basis upon which I'm designing further studies in lupus nephritis."
Dr. Chang's funding will directly support her research into identifying non-invasive measures of vascular health in children. There is a great need for these non-invasive measures since children are at a greater risk for cardiovascular disease than those with lupus onset in adulthood, making it critical to prevent cardiovascular disease and related damage early.
Dr. Hoover is receiving the CDA for the second consecutive year. His research investigates how five newly discovered myeloid immune cells in lupus kidney disease coordinate the immune response and damage in kidney tissue. By drawing connections between cell types and patient outcomes, Dr. Hoover's work has the potential to reveal which immune cells and pathways are associated with kidney damage and identify drug targets in groups of patients for further study. Successful completion will lead to new models to explain human lupus and provide the basis for Dr. Hoover to develop his own laboratory to study mechanisms of human lupus kidney disease.
"The Career Development Award has seen all six of its grantees continue their lupus research and many move on to prestigious new roles advancing their careers," said Leslie Hanrahan, Vice President of Education and Research, Lupus Foundation of America. "This year we are thrilled to support Dr. Chang and Dr. Hoover whose studies are focusing on two of the most critical areas of lupus research – childhood lupus and kidney involvement – and we are encouraged that the contributions from their studies will further our understanding of lupus and its impact."