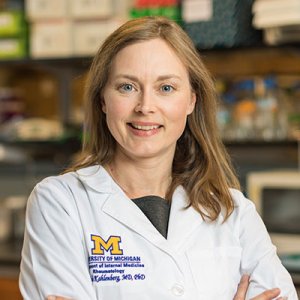 Joanne Michelle Kahlenberg MD, PhD
2018 Recipient of the Mary Betty Stevens Young Investigator Prize
About the Researcher
Dr. Kahlenberg is an associate professor of internal medicine in the rheumatology department of Michigan Medicine at the University of Michigan.  She received her medical training at Case Western University  School of Medicine and completed her residency at University Hospital.  She completed her fellowship in internal medicine and rheumatology at the University of Michigan Health System in 2011.  Her areas of practice in rheumatology include systemic and cutaneous lupus, rheumatoid arthritis, vasculitis, psoriatic arthritis, and ankylosing spondylitis.
Dr. Kahlenberg's work focuses on the pathogenic mechanisms that drive skin inflammation in systemic lupus erythematosus (SLE) patients.  The lab's overall goal is to identify novel targets for more effective and less toxic therapy development.
In addition to receiving the Mary Betty Stevens Young Investigator Prize from the Lupus Foundation of America in 2018, her honors also include being named as the Emerging Taubman Scholar, awarded to promising junior faculty for innovative research to understand and cure human diseases by the University of Michigan, Young Physician-Scientist Award, American Society for Clinical Investigation (ASCI), Vic and Kelly Braden Memorial Fellow, Arthritis National Research Foundation, and the K Award Grant, Central Society for Clinical and Translational Research, among many others.
In 2017 she was selected to deliver the Edmund L. Dubois, MD, Memorial Lectureship, awarded by the Rheumatology Research Foundation of the American College of Rheumatology for significant contributions to lupus research.
Dr. Kahlenberg has made substantial contributions to the field of lupus-related skin diseases. She is the principal investigator on an ongoing study analyzing how specific chemicals in lupus skin contribute to skin inflammation.
Dr. Kahlenberg is also running another study investigating how these chemicals regulate inflammation in response to ultraviolet (UV) light. These studies will ultimately shed light on the factors that lead to the development of systemic autoimmunity.
Also, she is collaborating on studying the traits in skin diseases that may explain why women are at higher risk of developing lupus. She also manages and mentors a laboratory team of undergraduate and graduate students, research fellows, and medical students that study factors that trigger skin inflammation flares in systemic and cutaneous lupus.