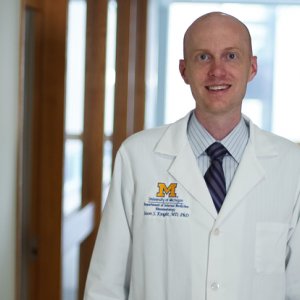 Jason Knight, MD, PhD
Associate Professor, University of Michigan
Dr. Knight received his M.D. and Ph.D. degrees from the University of Michigan, and completed his molecular biology Ph.D. research in the laboratory of Dr. Erle Robertson at the University of Pennsylvania. His fellowship in rheumatology was at the University of Michigan, where he pursued postdoctoral research in the laboratory of Dr. Mariana Kaplan.
During fellowship, he received the prestigious American College of Rheumatology Distinguished Fellow Award, as well as a Rheumatology Research Foundation Scientist Development Award. As a faculty member, he has been awarded a Young Physician Scientist Award by the American Society of Clinical Investigation, a Vic and Kelly Braden Memorial Grant for Lupus Research by the Arthritis National Research Foundation, and an Edmund L. Dubois Award for young lupus researchers from American College of Rheumatology.
As a physician-scientist, the goal of Dr. Knight's NIH funded laboratory is to develop more effective therapeutic approaches to systemic thrombo-inflammatory diseases such as lupus and antiphospholipid syndrome, and ultimately to prevent them from happening in the first place. His studies have dissected the role of exaggerated neutrophil activity in various autoimmune and thrombotic diseases. Dr. Knight has discovered the important role of neutrophil extracellular traps (NETs) in antiphospholipid syndrome and has published more than 30 papers on the topic. In light of the global health crisis caused by the COVID-19 pandemic, he has also pivoted his work to the study of SARS-CoV-2 applying the knowledge gained from studying lupus and APS. His team was the first to report elevated levels of NETs in the blood of COVID-19 patients and has recently been studying  the role of autoantibodies in severe COVID-19.