Blog
April 20, 2023
The Lupus Sisters: Walking for a Cure
Maria and Vivian were only teenagers when life threw them a curveball. Maria began developing joint pains at just 14 years old, something she attributed to her role on the volleyball team at the time. Initially dismissing it as part of the game, she continued living her life as normal until she began experiencing a unique rash on her face. Living in South Florida, her parents assumed she was spending too much time in the sun. Nevertheless, Maria's visit to a dermatologist resulted in her undergoing lab work to rule out any other causes.
As fate would have it, something indeed was off. Maria's antinuclear antibody (ANA) test came back positive. Her lupus diagnosis swiftly followed, and in February 1992 she was diagnosed with lupus nephritis.
Lupus wasn't a novel concept for Maria and Vivian's family. They knew of the disease through an aunt that had been diagnosed years prior. However, aside from the peculiar name and a basic understanding of lupus, they had no idea of the severity of the disease.
Maria's condition rapidly began to change following her diagnosis. She had several biopsies done on her affected kidneys, and began taking different forms of medication, while also gaining weight and losing her hair - all while entering high school.
Vivian's journey with lupus came much later than her sister's.
Initially, she was symptom-free while Maria underwent her testing and received her diagnosis. As a precaution due to their family history, Vivian's mother also had her tested, which yielded no positive results. Believing she was spared from the mysterious disease, Vivian focused on supporting her sister through her lupus journey while living a seemingly healthy life.
Several years later, her blood pressure began to spike.
Concerned about the sudden change in her condition, Vivian checked in with her doctor and had her ANA checked again - and again tested negative. Despite her negative result, her doctor was concerned about the condition of her kidneys.
A few years later, Vivian endured a sequence of life-changing events.
After three months of being pregnant, she suffered a miscarriage. This news prompted another round of ANA testing - this time the results came back positive. She was diagnosed with lupus nephritis and a coagulation disorder. The news came as a shock to Vivian, who already had given birth to a healthy son without issue.
Vivian began seeing another doctor following her diagnosis, concerned that her kidneys had been negatively affected for years without treatment. Unlike her sister, Vivian's delayed diagnosis caused irreparable damage that rendered treatment ineffective.
In 2014, her kidneys began to rapidly deteriorate. She was quickly put on dialysis and underwent surgery to have a catheter installed.
In 2017, after a nearly three-year wait period, Vivian received a kidney transplant. After five years post-transplant, Vivian has maintained a stable condition and has regular checkups with her doctor.
Taking the First Steps Forward
Maria began her search for answers following her diagnosis and quickly found the Lupus Foundation of America's website and resources. After finding a walk in her area, she attended the Broward Walk to End Lupus Now in 2007, where she encountered others with lupus and was able to hear their stories. Immediately following the Broward Walk, she knew she needed to bring Vivian to the next walk, which was taking place in nearby Palm Beach. They both credit their experience with Walk to End Lupus Now as a prime motivator to get involved in raising lupus awareness.
"With both of us being lupus warriors, we felt we had a responsibility to raise our voice and let others know they are not alone," Maria explained. "That's how we felt. Seeing people the same age as us. I think it's a very important part of understanding the disease to help others understand."
"Another reason why we do it is to raise awareness. A lot of people don't have a clue - that lupus can affect any organ in the body. Additional treatment options and medications can make a huge difference. Also, raising funding for research so we can continue to receive effective treatments is vital," Vivian added.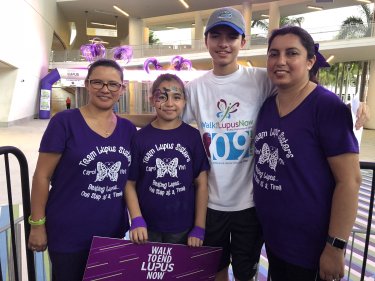 Following her diagnosis, Maria was told she couldn't have kids. She credits the knowledge she obtained from the Lupus Foundation of America for empowering her to make informed decisions about her treatments and to eventually having a successful pregnancy and a healthy daughter.
"I think the LFA does help people find those resources for people who are new to this."
A Lupus Family Affair
Attending the walks and participating in lupus awareness campaigns has become a family affair. Vivian's son has been attending walks since he was small, and has started campaigns at his school, which has turned out a majority of the volunteers at his local Walk event. Maria's 14-year-old daughter has also recently participated in a walk for the first time!
Between additional family members and friends, Maria and Vivian began to recruit more participants each year to join their Walk team: the Lupus Sisters. Using a variety of methods, including social media and word of mouth, their team eventually grew to over 40! Over the years they have managed to raise tens of thousands of dollars for research and development of a cure.
"It feels great to see so many people turn out to the walks and show their support. We're happy when we have more people. We don't feel alone and have everyone supporting us. Especially our families, our kids," Maria said.
The Lupus Sisters' awareness activities do not stop at Walk to End Lupus Now events. They are active in their communities, hosting fundraisers at local pizzerias and ice cream shops, and obtaining proclamations in different cities during Lupus Awareness Month.
As the 2023 Walk season quickly approaches, Maria and Vivian both look forward to seeing more new and familiar faces.
"It's a chance to see everyone else that's fighting the same battle, creating more awareness. Seeing the Walk grow year after year, means we're doing our job."
Maria and Vivian offer the following advice for anyone battling lupus:
"I'll say never give up. A diagnosis like that is very scary. It is not an easy road. We have been through a lot: chemo, hospital stays every month, dialysis, transplants. Just make sure you stay on top of your appointments and treatments. We don't have a cure yet, but that's our goal. We are going to continue walking and raising awareness and walking until we find a cure."
For more information on Walk to End Lupus Now and to find a walk in your area, click here or contact Zachary Feuerherd at feuerherd@lupus.org.