Blog
February 14, 2018
The 365th Day
"I was searching for ways to make a difference and regain control."
Laura Kelly, 29, of Hicksville, NY, knows the life changes that lupus brings. Her symptoms began in 2003. She was formally diagnosed in 2007, and then developed kidney disease in 2010.
"Lupus changed my life at a pretty critical time," she says. "It kept me out of graduate school, and I wound up breaking off some relationships with friends and my then-boyfriend because they just didn't get it. That's when I became more involved in learning about lupus and teaching people about it."
Her go-to source: the Lupus Foundation of America. "I was searching for ways to make a difference and regain control after my diagnosis," Laura says. "The LFA has given me something to look forward to each year with the Walk event, and participating each year has helped my friends and family to better understand lupus."
What she didn't expect was that her efforts to improve her health would lead to a gift both generous and uplifting.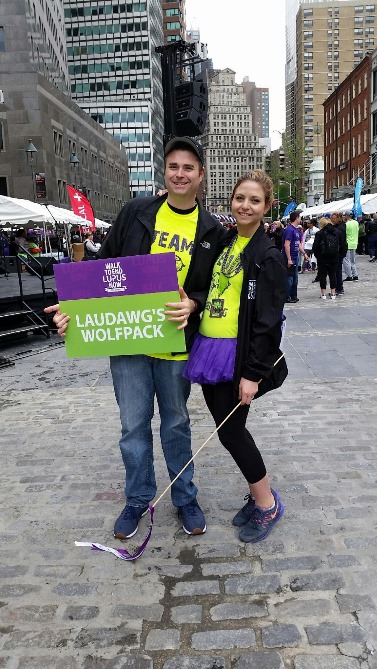 When Laura became engaged in 2015, she was determined to be at her best for the 2016 wedding. She quit smoking and began working with a personal trainer at a local gym. She stuck with it, and this spring, the unexpected happened!
"My trainer and the other trainers approached me about them doing a day clinic, where people would come and pay to use the facility, and all of the proceeds would be donated to the 2017 New York City Walk to End Lupus Now® on my behalf," she says.
"I'm so touched by it, to see how they really valued me as a person and wanted to help me."
That kind of support is evident at the Walk, which is why the day is so important to Laura. "The Walk reminds me that I don't go through this alone—there are lots of other people who are just like me, who struggle the same way I struggle, but then we all come out together to the Walk and we're all happy and excited to be there.
"The other 364 days of the year, life is unpredictable and with lupus it can be pretty crummy, but for that one day we support each other. And if you feel supported, you can recover."