Blog
April 3, 2017
Shemiah Sanchez: Against All Odds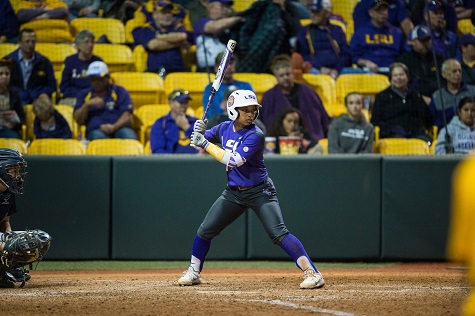 Shemiah Sanchez may have lupus, but she doesn't let the chronic autoimmune disease stop her from being an all-star athlete. Now a sophomore majoring in business, Sanchez plays infield for the Louisiana State University Tigers softball team.
When she was 14 years old, while playing travel softball for the Georgia Impact-Bass team, Shemiah started experiencing chronic joint pain and headaches. Two months later, she was diagnosed with lupus.
Nevertheless, Shemiah powered through her years at East Coweta High School with high grades and some serious achievements in softball and basketball. In addition to graduating with honors, she held 15 individual season and career school records, became the Newnan Times-Herald Player of the Year, and made the Georgia Athletic Coaches Association All-Star Team after leading the county with 12 home runs. Because Shemiah was a top two-sport athlete, her family decided not to disclose her diagnosis for fear that it might keep her from being chosen for a college athletic scholarship.
LSU recruited Shemiah to play softball, and in her exceptional first season she played 19 games. In 2016, Shemiah helped her team finish third in the Women's College World Series. She has excelled in the classroom as well, making the prestigious Southeastern Conference Honor Roll.
Shemiah's success on the field has not been without the challenges that come with a chronic, invisible illness. She often experiences minor flares—meaning her disease activity peaks, along with her symptoms. "The joint pain, swelling, and fatigue can make everyday life really hard, especially when I still have to work hard in the classroom as well as on the softball field," Shemiah says. Her most severe complication is kidney trouble, which requires additional treatment.
In order to stay in shape for game day while controlling her lupus and preventing flares, Shemiah works closely with her trainer and coaches to tailor her strength training and workouts. In addition, she follows her medical team's treatment regimen, makes sure she gets plenty of rest, and goes in for lab tests every month to help monitor her disease activity. Since softball is played outdoors, Shemiah limits her sun exposure and takes precautions to prevent skin irritation and damage, since sunlight can trigger her lupus to flare. The medications she takes to manage the disease weaken her immune system, so sometimes she wears a face mask to avoid getting sick.
"Even through major adversity, [Shemiah] has given her all to her team, her sport and her university," says Coach Beth Torina, the head softball coach at LSU. "Everything she does is with a smile, when many days I know she has reasons not to.  She inspires so many with her story, including me!"
Shemiah would travel monthly from Louisiana to Atlanta to receive chemotherapy treatment for her lupus, returning to school the next morning to attend classes and practice. This persistent drive and commitment earned her a starting spot on the team this season.
Throughout her lupus journey, Shemiah has maintained the determination and discipline to pursue her dreams despite lupus. "Living with lupus is an everyday challenge for me, one that I'm willing to fight and overcome the obstacles to win this battle," she says. "No matter how hard it gets I will refuse to let this disease get the best of me."