Blog
April 18, 2017
Sharing the Journey: Raising Lupus Awareness
The Sharing the Journey series is by you and for you. In your own words, we highlight the perspectives and personal experiences of people who struggle with lupus each day.
This month, we asked Sharing the Journey participants what they have planned for Lupus Awareness Month (May) and what they do throughout the year to raise awareness for this devastating and unpredictable disease.
In anticipation of Lupus Awareness Month (May), how do you raise awareness for lupus?
May is a very exciting month for everyone who is raising awareness for lupus. My high school (Lyman Hall High School) in Wallingford, CT is planning a Lupus Walk-A-Thon to raise money and awareness for lupus. This is being run by my humanities class which consists of seniors. The class came up with this idea and I could not have been happier. This event is open to the public and will include many games, a walk, learning opportunities, donations, food trucks, and music. All of the money we raise will be donated to the Lupus Foundation of America. I am very excited for this upcoming month! — Kylie K.
I'm planning to share facts about lupus on Facebook, will be rockin' purple, and I will be conducting a lupus awareness seminar in my hometown. — Trindi M.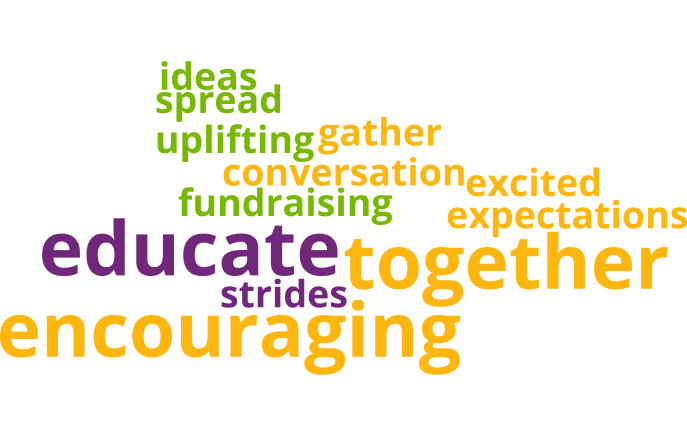 For me, Lupus Awareness Month is every month. Every day I have to fight to stay healthy, so that means that I have to fight back just as hard to spread awareness for a cure. However, Lupus Awareness Month is a fantastic excuse to get those around you involved! I'm beginning the month by having a Put on Purple Day at my office where I work, to not only kick off LAM but also as a spirit rally for the Walk to End Lupus Now NYC! I will gather with family and friends (go Team Wolf Pack!) to create a physical force against lupus at the walk, and will follow with a fun celebration fundraising party with my fellow Young Leadership Committee members. I will also continue to spread awareness through education via social media and gatherings, as I recently became a Lupus Foundation of America Ambassador. It is important that we all stick together to find new ideas of getting the word out there for the world to know how crucial this is for us, and it is vital that we share information to those who are close. The best part is I have a blast doing it! I'm looking forward to a month of tremendous strides and success, and to see all of the positive and uplifting spirit. — Brittany W.
My niece said I needed to put "Cure Lupus" on my oxygen machine cover because she didn't like that people assumed I had cancer or some other disease. So I did do it in a purple color. Since then I have had many people asking me about Lupus. — Sheila R.
As a busy college student involved in a lot of extracurricular activities, it can be difficult for me to find time to schedule a large-scale lupus awareness event on my campus.  So, I like to raise awareness on a more personal level.  I am very open with my friends, family, and colleagues about my disease.  I am not ashamed of my lupus and I want to encourage others who may also struggle with chronic illnesses.  Unfortunately (but not surprisingly), most people I talk to on a daily basis have no idea what lupus is.  In the past month, I have been able to educate a group of colleagues on a film shoot, my scene partner for acting class, and some strangers in the student union about my disease.  Last year, one of my close friends who learned about lupus from me decided to create a video for her film class about lupus.  I was able to share my story and we distributed the video several places; this was yet another way I was able to spread awareness.  I found this domino effect so interesting and encouraging because I saw how my conversation with her about lupus inspired her, in turn, to tell others about lupus.  Ultimately, my goal is to give people a face to connect to the disease - I believe it is much more powerful to learn about lupus directly from someone that has it. — Becca M.
I talk about my disease on social media a lot and answer questions people may have about my disease. I'm looking forward to May 18th, which is my 30th birthday. I will continue to educate people and bring awareness in any way I can. — Amy C.
I recently had to do a speech in my public speaking class, so I did it on my personal experience fighting lupus. — Maria D.
I will host a lupus walk in my city, El Dorado, AR, on May 13. This is the second time for the walk and I find it to be effective for lupus awareness. Last year's event brought about 250 people. This year, I'm expecting there to be more people. I would like this to be an annual event for awareness as well as a fundraiser for lupus research. — Chandra H.