Blog
January 12, 2021
Sharing the Journey: New Year, New Opportunities
The Sharing the Journey series is by you and for you. In your own words, we highlight the perspectives and personal experiences of people who struggle with lupus each day.
This month, we asked Sharing the Journey participants the following question: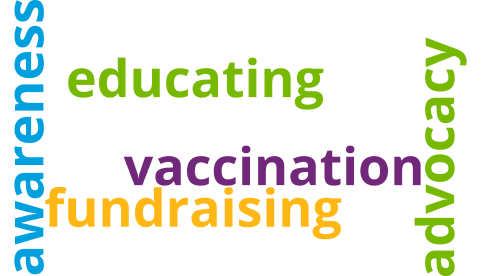 As a lupus warrior, how do you plan to raise lupus awareness in 2021 and why?
As a healthcare worker who plans on getting the COVID-19 vaccine, I plan to share my experience as a patient with lupus and rheumatoid arthritis. I'm hearing a lot of members in chronic condition communities feeling unsure and I hope that by sharing our experiences, we can help others in the lupus community. Obviously, there may be medical or medication reasons that put some lupus patients in a category where they can't receive the vaccine, but for all others, I feel this is going to be a large advocacy piece in 2021. – Leslie 
COVID-19 Vaccines and Lupus
For people living with lupus, it's important to talk with your health care team first about the vaccines and the best treatment plan for you. For more information, visit our hub on Covid-19 vaccine and lupus. 
Learn more
As a lupus warrior and ambassador, I will be raising awareness all year long! I plan to participate in the Digital Lupus Advocacy Summit and Walk to End Lupus Now. I plan to raise funds doing social media fundraisers especially during Lupus Awareness Month in May. I will continue to use social media to share my story and help all who I may come in contact with. My voice will be heard in 2021 because it makes a tremendous difference and we need a cure! I hope you are raising your voices as well! – Angel 
In 2021, I will raise awareness for lupus. I graduate with my masters this year at 21 years old. This is a big deal for me because I have done so much and been through so much in my life. I was diagnosed with lupus at 12 years old. I went through chemotherapy and lost all of my hair. I graduated high school with 42 college credits. I graduated at 19 with my bachelors and now I will receive my masters at 21 years old. Lupus doesn't define me. I am stronger than lupus! – Kyra 
This year, I plan to raise lupus awareness through the annual Walk to End Lupus Now and by sharing personal stories and photos of my journey on social media. – Kayla 
In 2021, I'm hoping to raise lupus awareness by learning more about lupus. One of my New Year's resolutions is to read more and I have several unopened books about lupus getting dusty on my shelf. I want to open those books this year and learn how I can live a happier, healthier, and more balanced life with lupus. Simple as that! – Becca 
---

Lupus awareness isn't just for Lupus Awareness Month in May, it's something that's important all year round. Now more than ever, lupus experts and those impacted by lupus are unwavering in their commitment to raise lupus awareness and education. At the Lupus Foundation of America, we offer a number of opportunities that will allow you to play a significant role in raising lupus awareness, get involved and stay in the loop about lupus research, raise funds, and learn more about lupus to help you better manage the disease. 
In 2021, lupus warriors, their friends and family members can continue to make a profound difference in raising awareness, by utilizing social media to share personal stories of their journey,  becoming a lupus advocate and attending the Digital Lupus Advocacy Summit and even participating in events like the Walk to End Lupus Now® (2021 information coming soon!). You can even better your own lupus knowledge by reading some of our latest resources on lupus, staying up-to-date on research news or signing up for our Take Charge email series to learn new skills to better manage lupus. 
Whatever you choose to do, we are here to support you year-round!