Blog
October 2, 2017
Painting with a purpose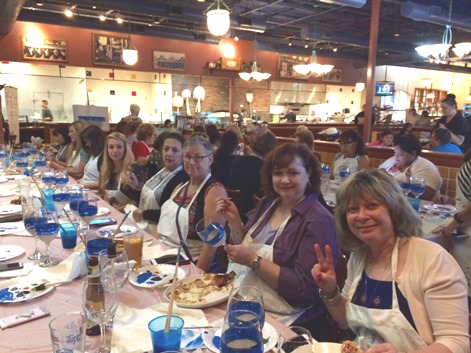 By Noreen Hummel
Paint, wine glasses, and a fun loving group of people - what do you get when you put these things together? The perfect ingredients for a fantastic Make Your Mark fundraiser.
I was diagnosed with lupus at 14 after experiencing years of symptoms – feeling completely fatigued after being in the sun, sleeping for hours each day and then one night I was in so much pain that I couldn't even lie on my back. After running blood work, the doctor said I had lupus. By the time I received my diagnosis I was in complete kidney failure and needed a transplant. The time from diagnosis to transplant was tough and is a lot for a kid to go through. I've been so lucky to have the support of my wonderful network of family and friends and have been able to live a full life despite my diagnosis.
I want to do my part to support research, education and services that help improve the quality of life for all people affected by lupus.
I've been a part of the Walk to End Lupus Now™ program for years, which I love, but after seeing a post on the Lupus Foundation of America's Facebook page, I thought I could expand my fundraising efforts by putting on a Make Your Mark fundraiser. I had recently gone to a paint night fundraiser put on by a friend and wanted to try putting on one of my own.
To make the event a success, I was very proactive about promoting it on Facebook and asking my friends and family to share it on their pages as well. In order to really pump up my fundraising effort, I reached out to a restaurant about them donating a percentage of proceeds they received on the night of the event – hot tip: MANY restaurants or business do this, so research those in your area and reach out to them! I also knew that there would be some people who wanted to attend, but wouldn't be able to so I encouraged them to donate ahead of the event, which resulted in quite a few donations
Finally, I put together gift baskets to raffle off at the event in order to raise more – one local business even donated an entire basket. This was a great way to raise additional funds once people were in the door.
The idea of putting on a fundraiser scared me initially, but I decided I just had to go for it and focus on why I was doing it – to help support the critical programs that help others with lupus. Having access to those programs made a huge impact on me and I know they will help others affected by lupus, which is why I felt so compelled to do more.