Blog
December 2, 2022
NFL Players Raise Awareness For Lupus During My Cause My Cleats Campaign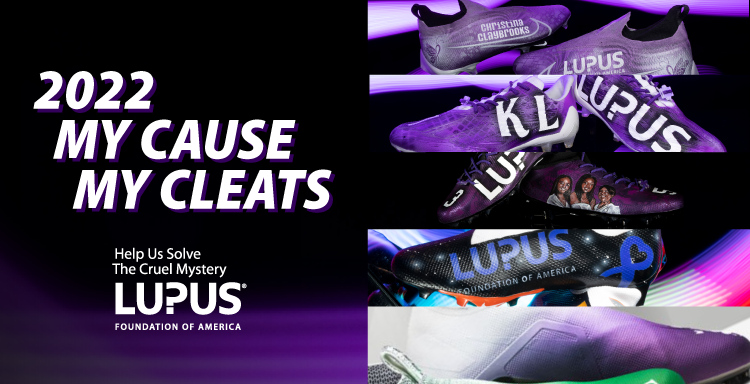 The National Football League (NFL) is spotlighting charitable organizations and raising awareness for a variety of causes with its eighth annual My Cause My Cleats initiative. Once again, NFL players will don customized cleats with a cause of their choosing to bring awareness to their passions off the field. Each year, dozens of these causes are brought to the gridiron during primetime, including lupus!
The Lupus Foundation of America is proud to recognize the following NFL players who are raising awareness of lupus:
Chris Claybrooks, Jacksonville Jaguars cornerback, is honoring his mother who lives with lupus by supporting the Lupus Foundation of America for the second year.
Travis Etienne Jr., Jacksonville Jaguars running back, is honoring his cousin who passed away from lupus.
Darius Shaquille Leonard, Indianapolis Colts linebacker, is honoring his sister who is living with lupus. This is the fourth year that Leonard has participated in My Cause My Cleats while supporting the Lupus Foundation of America.
Daron Payne, Washington Commanders defensive tackle, is honoring his mother and bringing attention to the daily challenges of living with lupus.
Delarinn Turner-Yell, Denver Broncos safety, in his first year in the NFL, has chosen to represent both the Lupus Foundation of America and the National Multiple Sclerosis Society.