Blog
March 9, 2018
Mallory Nwaokai: Making Her Mark in 2018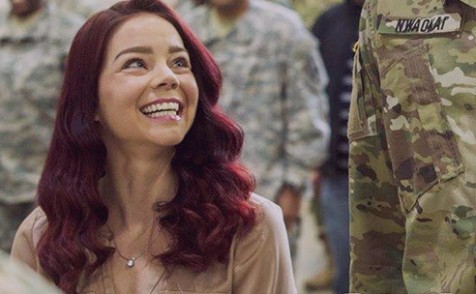 Last year, Mallory Nwaokai held a Make Your Mark fundraiser during Lupus Awareness Month through her employer TELOS Fitness Center and raised $1,500. This year, she is setting a higher goal of $2,000 and is confident that she can apply what she learned from the previous year to reach this fundraising target.
Mallory believes that fundraising has given her the opportunity to do something positive to support the lupus community, although she had challenges raising funds initially.
"Going to my employer and asking for their support made all the difference," said Mallory. "They have resources to get the word out quickly and ask for broad support. The response from people who want to do something for a good cause has been overwhelming."
Now, Mallory is energized to meet her higher fundraising goal and believes that she will be successful with the support of her employer.
Diagnosed at age 14, Mallory has been living with lupus for nearly 20 years. It started as a butterfly rash across the bridge of her nose, which was the only visible sign of the disease. She also had achy joints, chronic fevers and was tired all the time.
After seeing six doctors and having numerous tests, doctors finally confirmed that it was lupus. Although she was initially diagnosed with systemic lupus, at the age of 29 doctors diagnosed her with lupus nephritis after undergoing a renal biopsy.
Now she has to maintain her well-being through diet and exercise, which has made a big difference in her life.
At the age of 33, she is now focused on starting a family with her husband, Rammell Nwaokai, and she believes that being healthy is a critical priority.
"I am healthier now compared to when I was younger, and as a result I experience fewer flares and they are more manageable," says Mallory.
She has run several half and full marathons and participated in numerous triathlons, including Ironman 70.3 in Austin, Texas which has helped her maintain a healthy lifestyle and kept her motivated.
But what truly drives her fundraising aspirations is the opportunity to do something and give back to the lupus community. As Mallory says, "Most people don't know what lupus is or how many people are affected and it's important that we raise awareness and support people who have lupus and those who need help."
Mallory has not allowed lupus to define her life or her decisions, although she recognizes that it has had a profound impact on her. She wants other people in the lupus community to know that they are not alone in their struggles, and she feels that raising funds has been a great way to bring the community together to support one another.
Learn more about the Make Your Mark fundraising program and to starting your own Lupus Awareness Month event.