Blog
September 14, 2023
Making His Miles Matter: Nathan's Marathon for Lupus Awareness
For years, a relentless shadow of uncertainty clung to Nathan's family, as they navigated the medical system searching for an answer to his mother's ailing condition. Countless visits to the doctor's office and extensive tests often left the family with more questions than they had going in, with seemingly no answers to explain the numerous conditions Nathan's mother, Christy, was enduring.
It wasn't until April 2021 that Nathan finally had an answer to his mother's condition - lupus.
Lupus was a complete mystery to Nathan and his mother. While Christy's lupus diagnosis finally provided an answer to the chronic symptoms she faced, including joint pain, inflammation, fatigue, and rashes, it left the family with as many questions as they had prior to the diagnosis. Like many who first receive their lupus diagnosis, the feelings of fear and uncertainty began to manifest, especially when learning that there is no cure for lupus.
Despite all this, Christy embraced her diagnosis and began the next stage in her lupus journey under the care of autoimmune specialists and began receiving treatment. Watching his mother's journey, Nathan felt inspired and compelled to take action to raise awareness for lupus for others going through a similar situation and funds for lupus research.
"I'm committed to raising awareness for lupus and helping to find a cure. I believe that everyone deserves to live a healthy and fulfilling life and wanted to do my part in this fight," Nathan states.
Originally from Cincinnati, Ohio, Nathan knew of the annual Flying Pig Marathon, one of the largest marathons in the United States. Coincidentally, the marathon takes place on the first Sunday of each May, which is also Lupus Awareness Month. He realized this would be a perfect opportunity to raise awareness for lupus, and immediately signed up.
This news came as a shock to Christy when he finally told her.
"I had been preparing for the marathon for months until I told her in March (two months before the marathon) that I would be running the race in her honor, raising money for the Lupus Foundation of America, and running the race in purple. She was so touched! She booked her flight right away to Cincinnati to support this journey and support me on race day."
Despite months of training, Nathan couldn't have prepared enough for what he faced on race day. A torrential downpour tested Nathan like he couldn't have imagined. Over six inches of rain fell while Nathan persevered through the storm, with the motivation of his family seeing him cross the finish line while wearing his purple uniform pushing him forward for his entire 26.2-mile trek. It was at that moment that Nathan knew his challenge was as much a mental task as it was physical.
"Despite the harsh conditions, it was an amazing experience. It was amazing having family and friends, who traveled from out of town, come and support me throughout that day. I felt accomplished on many levels after raising money and awareness for lupus and completing 26.2 miles successfully after so many months of training," Nathan recalls.
Nathan's favorite moment of the experience was seeing his mother as he crossed the finish line, filling him with a sense of accomplishment and joy.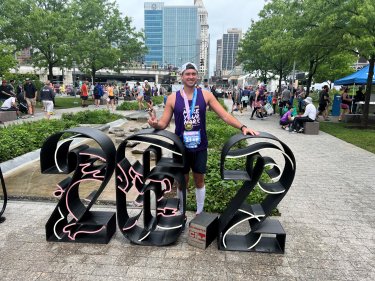 Running a marathon or participating in a race is a great way to honor a loved one and raise awareness for lupus. Nathan offers the following advice for anyone looking to get involved:
Set realistic goals. Don't set yourself up for failure by setting unrealistic goals. Start small and gradually increase your fundraising goals as you get more involved.
Share your fundraising story and ask your friends to support your cause. Use social media to spread the word. Social media is a great way to reach a large audience and raise awareness for lupus.
Be creative with your fundraising ideas. There are many different ways to raise funds for lupus. Get creative and come up with ideas that will appeal to your friends, family, and community.
Be patient and persistent. Fundraising takes time and effort. Don't get discouraged if you don't see results immediately. Keep working hard and you will eventually reach your goals.
Finally, Nathan wants to share his favorite motivation for anyone going through lupus or raising awareness of a loved one with lupus.
"My favorite motivation speech is Jim Valvano's speech at the 1993 ESPY Awards, other known as the "Never Give Up" speech. Marathon training and the race itself is by no means a walk in the park. For those running to raise money or experiencing the hardships of lupus, I would emphasize the same motto: "Never Give Up."
If you are interested in participating in your own race to make your miles matter in the fight against lupus, visit the Team Make Your Mark page and learn how you can participate in any endurance event, from a 5K to a marathon or triathlon - into an opportunity to fundraise and raise lupus awareness.