Blog
December 19, 2016
Lupus in Lights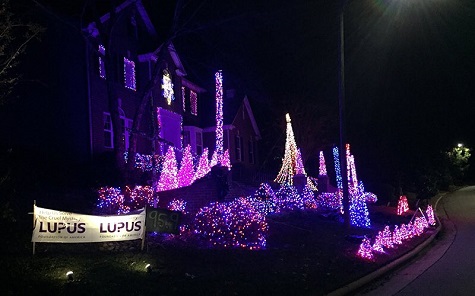 Thanks to Make Your Mark, you can raise money for lupus research doing just about anything. This holiday season two families decided to raise money for lupus research in a creative way – through their holiday light displays!
Christmas time was terribly hard for Jeremy Smoot of Ackworth, Georgia after his mother passed away in 2007 from complications of lupus. She loved the holiday season and went all out with decorations each year.
Jeremy's wife, Rosalind, told TowneLaker magazine that she began to dread the holiday season. "I knew how upset and down he would be," she says. "I knew we had to turn this around. I was looking for ways to get his mind on something else and to make Christmas a happy time for him."
In 2014, Rosalind decided that they would carry on the tradition and go all out to decorate their home for the holidays. The Smoot family pledged to give 100 percent of donations received to the Lupus Foundation of America in honor of Jeremy's mother, Debbie Founds.
The Smoot family is hoping to raise $2,000 this year. Rosalind estimates that about 500 people drove by in 2014 and close to 800 in 2015.

A couple hundred miles away in Raleigh, North Carolina, the Reid family had a similar idea.
Robin Reid of Raleigh, North Carolina told ABC 11 that battling lupus can be difficult some days, but creating these intricate Christmas light displays, not only brightens up her holidays, it brightens up her hope for a cure.
The Reid family sets up tens of thousands of lights on their house that are programmed to flash to the beat of the music on a local Christmas station.
"A lot of it is programming," Reid said, "so I could lay in bed while I was sick and I can program away."
This isn't Reid's first year running this fundraiser. Last year her light display raised over $3,000 for lupus research and she is hoping to double that this year!

Make Your Mark on lupus this season by turning your holiday activities into fundraising events. Consider asking for donations to LFA in lieu of gifts, host a holiday movie viewing party or, like these fine folks in Georgia and North Carolina, put your incredible light display to work!