Blog
June 10, 2019
Kelly O.- Running to Give Thanks
This profile is part of a series highlighting people who are participating in the Team Make Your Mark program. Join us in September for the Rock N' Roll Philadelphia 5K, 7.6K and Half Marathon, or join the Choose Your Own Race team to run or walk in any race or distance you prefer. For more information, please visit www.lupus.org/teammakeyourmark.
---
Looking back, Kelly started showing signs of lupus long before her diagnosis when she suffered from medication reactions, chronic strep throat and joint pain. Fast forward to 2007, after having an X-Ray to ensure a chronic cough wasn't pneumonia, Kelly found out she had an enlarged heart. Soon after she saw a cardiologist, and what she thought would be a stress echocardiogram led to an emergency room visit for fluid around her heart. From there, Kelly had fluid drained from her heart and after extensive testing found out she had lupus.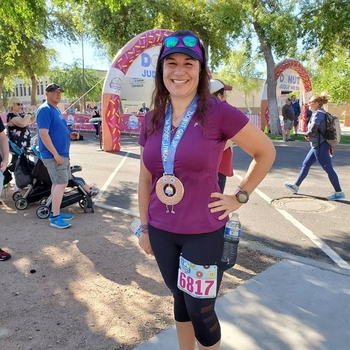 Kelly's lupus would go on to later attack her lungs, but after several years of trying high-doses of steroids and different medications, she finally found a treatment that worked for her. After starting this treatment, Kelly finds herself lucky. "I have joint pain and dexterity issues, but other than that my rheumatologist says I'm now the healthiest person with lupus he sees," Kelly shared.
In 2014 Kelly started getting into running events – first starting with a mud-run event, which led to running challenges and races with the Rock N' Roll Marathon Series. "When I started, I walked. My first half marathon took me three hours and 40 minutes," Kelly said. "Then, I started adding in small spurts of running and building up. This year I accomplished my goal of completing a half marathon in under three hours."
Team Make Your Mark entered Kelly's life at the perfect time. After running 34 half marathons in four years, she was looking for something special. "When I got an email about Team Make Your Mark, I knew it was my opportunity. It was an opportunity to give back and show how thankful I was for lupus research."
When Kelly took the starting line at the Rock N' Roll San Diego 5K and half marathon (yes, she's doing both!) she had 13 friends cheering her on, with 11 of them running with her – flying in from all across the country, from New York to Washington.