Blog
February 1, 2021
Journey to Regrowth: Tackling Hair Loss in Black Women
The growth of natural hair acceptance for Black women in our society is a cause for celebration. But it is important to talk about another issue that disproportionately affects Black women -- alopecia (hair loss). Alopecia can be a symptom of lupus and also a side effect of medications used during lupus treatment. The stigma around hair loss in the Black community, the lack of information, and the shame sometimes felt, can lead Black women to suffer in silence as they cope with the gradual or sudden thinning and loss of their hair.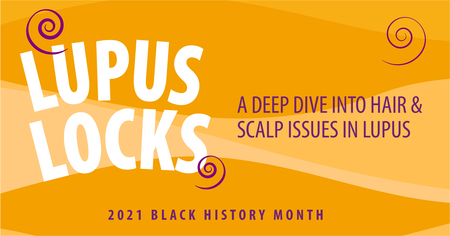 It's important to understand the significance and heritage of Black hair. For Black women, it's more than just beauty. Hair has long been a connection to one's identity and a form of expression. Because of this, experiencing hair loss can be alarming and have a negative effect on your mental and emotional well-being. 
This Black History Month, the Lupus Foundation of America is shedding light on this sensitive topic through Lupus Locks, an effort designed to increase education and awareness of hair and scalp issues in Black Americans, while also promoting coping tips and ways to restore your curls, coils, and kinks during your hair loss and regrowth journey with lupus.
Understand the Root Cause
More than half of those living with lupus experience hair loss at some point in their journey with lupus and for various reasons. There are different types of hair loss present in patients with lupus – scarring and non-scarring. Non-scarring hair loss involves inflammation that has developed on the scalp and around the hair follicles. This type of hair loss is reversible if recognized and treated at an early stage. Discoid lesions leave scars on the scalp, which can cause permanent hair loss. Severe lupus flares can also cause fragile hair to break off easily. In addition, your hair care and various styling practices could play a role in your retention, as black women are more prone to traction alopecia, which is caused by tight hairstyles that pull at the root.
Seek Professional Care & Advice
An early diagnosis and treatment can prevent your hair loss from worsening or leading to permanent damage of your hair follicles.
Rochester dermatologist, Dr. Nana Duffy, shares her advice on what you should do when it's time to see your dermatologist:
Make sure your scalp is easily viewable – protective styles (cornrows, braids) make it difficult for your dermatologist to get a sense of the whole architecture of your scalp.
Talk to your dermatologist about the kind of lupus you have (cutaneous lupus,  systemic lupus erythematosus)
Explore all treatment options available – ask your dermatologist about side effects and interactions with other medications.
For those who have already experienced permanent hair loss, Assunta Conyers, cosmetologist, hair loss practitioner, and owner of B. Renewed, LLC recommends trying out new wig units, because they mimic your natural hair and give you the option to wear different styles.
Something breathable, comfortable, and not too tightly fitted.
A custom and professionally fitted wig.
A human hair unit to be able to wash, color and treat as your own.
Remember, early diagnosis and treatment are critical to preventing long-term consequences of the disease. So, if you're feeling "off" or think you might have lupus, visit Be Fierce.Take Control. ™ to learn more about lupus and the common signs and symptoms. If you have continued concerns about your hair loss or sudden thinning, please consult with a dermatologist, trichologist, or physician. Our health educator specialists can also answer any questions you may have and provide you with more information on hair loss and lupus. 
---
Citations 
Concha, J., & Werth, V. (2018, October 01). Alopecias in lupus erythematosus. Retrieved from https://lupus.bmj.com/content/5/1/e000291
Aguh, C. (n.d.). Hair Loss in Black Women: Tips from an Expert. Retrieved 2021, from https://www.hopkinsmedicine.org/health/wellness-and-prevention/hair-loss-in-black-women-tips-from-an-expert