Blog
August 17, 2018
Join Us in Moving Research Forward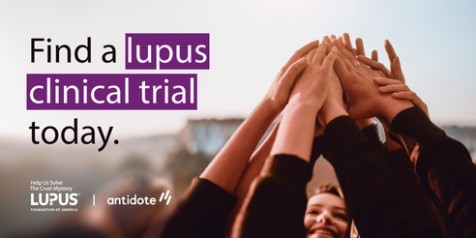 We know that life with lupus can be very difficult at times, and while there is no cure, there is hope. Through research, we can improve the lives of people living with or affected by lupus — and one day, find a cure.
But without enough people taking part in clinical trials, research cannot advance and individuals with lupus will continue to wait for answers. According to clinicaltrials.gov, in the United States today, there are 75 lupus trials looking for patients. All together, these lupus studies need more than 50,000 people to take part!
Our passion for research includes making sure that you are aware of your options and how you can participate in moving research forward. We've partnered with Antidote, a digital health startup that has developed an online search tool that will help connect you to relevant research. 
The search tool, called Match is easy to use and helps match you to a trial with just a few questions. It is located on our National Resource Center on Lupusalong with other useful information about clinical trials.
Why Join a Clinical Trial
You may think of clinical trials as a last resort, however clinical trials should be considered any time you are making treatment decisions, because sometimes the best treatment options are not yet approved. We encourage you to talk with your rheumatologist about clinical trials and to make the decision together.
You can find more information about taking part in a clinical trial on our Resource Center and start searching for a specific trial.