Blog
September 27, 2023
Increasing Resources to Spanish-Speakers with 12-week Email Series Tome Control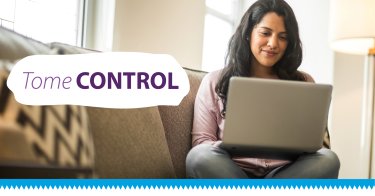 Life with lupus can be complex and challenging to navigate, especially when you can't find information in your preferred language. The Lupus Foundation of America (LFA) wants to help and we have been working to increase the number of Spanish language resources we have to offer. We are excited to launch our new Spanish language email series, Tome Control.
Tome Control was created in Spanish to provide information, tips and strategies to help our Spanish speaking constituents better manage their lupus. Each week for 12 weeks, subscribers gain knowledge and skills that can help:
Explain to others how lupus affects you
Find and ask for the support you need
Identify and track your lupus symptoms
Stick with your treatment plan and manage your medications
Make the most of your doctor appointments
Cope with lupus and its day-to-day challenges
Stay active and eat nutritious food
In addition to Tome Control, the LFA offers a number of other programs and resources in Spanish. Our Health Education Specialists provide non-medical support and advice in both Spanish and English and our National Resource Center on Lupus offers Spanish language health education and information. You can also check out our Hispanic/Latino support group, where you can find a safe and understanding community of people who understand what you are going through.
We're excited to continue helping Spanish speakers with lupus on their journey to take charge of their health!
---
Aumentando los recursos para los hispanohablantes con Tome Control, una serie de 12 correos electrónicos de 12 semanas semanales
La vida con lupus puede ser compleja y desafiante, especialmente cuando no puede encontrar información en su idioma preferido. La Fundación de Lupus de América (LFA, por sus siglas en inglés) quiere ayudar y hemos estado trabajando para aumentar la cantidad de recursos que tenemos para ofrecer en español.  Estamos entusiasmados de lanzar nuestra nueva serie de correos electrónicos en español, Tome Control.
Tome Control fue creado en español para brindar información, consejos y estrategias para ayudar a nuestros constituyentes de habla hispana a manejar mejor su lupus. Cada semana durante 12 semanas, los suscriptores adquieren conocimientos y habilidades que pueden ayudar a:
Explicarle a los demás cómo le afecta el lupus
Encontrar y pedir el apoyo que necesita
Identificar y rastrear sus síntomas de lupus
Seguir con su plan de tratamiento
Aprovechar al máximo sus citas médicas
Hacer frente al lupus y sus desafíos cotidianos
Además de Tome Control, LFA ofrece otros programas y recursos en español. Nuestras especialistas en educación para la salud brindan apoyo y asesoramiento no médico tanto en español como en inglés y nuestro Centro Nacional de Recursos sobre el Lupus ofrece educación e información sobre la salud en español. También puede consultar nuestro Grupo de apoyo hispano/latino, donde podrá encontrar una comunidad segura y comprensiva de personas que entienden por lo que está pasando.
¡Estamos emocionados de continuar ayudando a los hispanohablantes con lupus en su viaje para hacerse cargo de su salud!