Blog
February 10, 2016
Make Your Mark: Hudson Valley Walks to Fight Lupus
On a cold and rainy day in October, more than 100 people braved the elements to attend the Hudson Valley Lupus Walk. The community event was championed by Iris Petrillo who wanted to hold a local walk to raise money and awareness for lupus. It started out as an idea and with the support and help of family, friends and the community, it became a successful reality, raising more than $10,000 for the Lupus Foundation of America.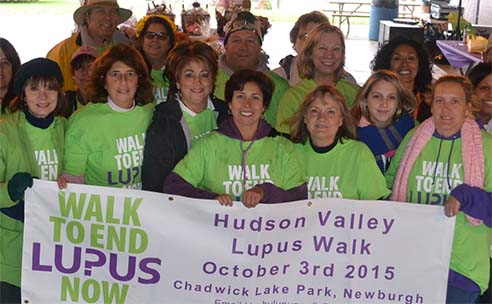 Iris knew she'd need help, so she put together a committee. This great group of committed volunteers included: a coordinator, assistant coordinator, secretary, treasurer, co-fundraising coordinators as well as committee members at large. They met monthly to discuss what had been accomplished and what needed to get done for fundraising, advertising or logistics. The committee made sure that the day wasn't just about walking, but about coming together as a community to raise awareness and money for the mission of Foundation. Iris and her crew were determined to get as many dollars as possible and secured sponsorships to underwrite key items like t-shirts, food and insurance.
The highlight of event day was a 2.25 mile walk at Chadwick Lake Park in Newburgh, New York. There was also face painting, music, a Zumba warm-up and refreshments. The initial goal of the Hudson Valley Lupus Walk was $5,000. After more than doubling that goal, the committee got right back to work and started planning the second annual event. We're excited to see how far they can go in 2016!
IT'S EASY... GET STARTED IN 1, 2, 3!
1. PLAN - Set up a committee of people who are well connected and full of great ideas!
2. SECURE LOGISTICS - Secure a date, location and approval on any needed permits
3. FIND SPONSORS - Find sponsors that will underwrite your expenses.
Want to host your own community walk to raise funds to support the Lupus Foundation of America? Register to host a community event now or email makeyourmark@lupus.org with any questions you may have!