Blog
January 15, 2020
Finding Peace Through Strength and Endurance
By Team Make Your Mark Coach Tracy
I started running more than 25 years ago to get healthy and feel better. Quickly, I realized that my strength as a runner was distance more than speed. I ran about a dozen road marathons before realizing that my real passion was trail running at ultra-distances, which is any distance further than a marathon. Since then, I have run dozens (I lost count!) of ultra-distance events – mostly 50-milers.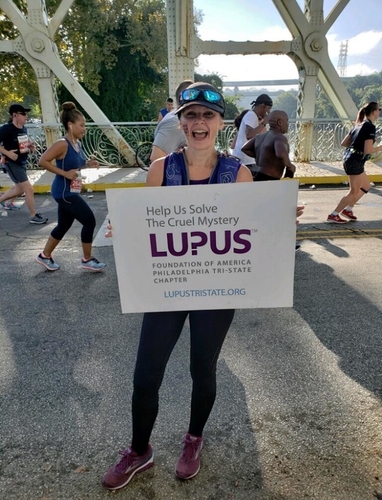 More than five years ago, I received my Road Runners Clubs of America coaching certification and started training individuals to go farther and faster. My focus was on building training programs, improving form and preventing and managing injuries. 
Around the same time, I started working as a communications director for the Lupus Foundation of America. The community of people and their stories had a deep impact on me and I'm proud that I'm still involved with the Foundation as the National Coach of Team Make Your Mark. 
Our Coaching Program offers charity running program participants sample training plans and guidance, coaching support and healthful strategies to enhance well-being. Since training programs are typically 10 weeks or longer, I view the training program as a good way of adopting new habits as opposed to working hard, racing and then going back to life as usual. 
It typically takes 60 days to fully adopt a new habit, so this training program is truly an opportunity to change your life for the better. Developing a training program that works best for you and your lifestyle, schedule and life depends is critical. 
This is where I come in. I work with runners and walkers to identify opportunities and problem solve any anticipated challenges. I believe it is best to get it all out on the table upfront as there usually is a clear path forward, but it requires being honest about your limitations and the level of commitment that you are willing to make. We can find a balance that addresses the unique needs of each individual, and then it is time to get to work! 
The best advice that I have for anyone starting a training program is to vary the training routine by starting slow, building gradually and giving yourself permission to be imperfect. Education goes a long way on race day, so developing a race strategy pre-, during and post-race will help build confidence and help ensure a wonderful race experience.
The payoff is huge. The real value is the transformation in lifestyle and emotional well-being through an improved self-concept and positive attitude. 
Training and racing offer invaluable lessons of what is possible through discipline and commitment. It changes the way we see ourselves and what we can do in the world. Working toward a goal and doing good work by fundraising for the lupus community offers a wonderful opportunity to get more out of life while giving back. I have done numerous lupus fundraisers and have always been surprised by how supportive friends and family can be simply from asking for a small donation. 
I try to wake up everyday and tell myself that today is the day. So allow today to be your day to sign up for Team Make Your Mark, change your life and change the lives of others through your good works.