Blog
February 13, 2018
Danica Winkley: Big Miles for a Big Purpose
Danica Winkley's 21-year-old sister – Erica – passed away from lupus in November 2016. After taking time to grieve, she made the decision to take action – and she's only getting started.
Danica finished the Seattle Rock 'n' Roll Half Marathon last June as a tribute to her sister and in the process raised funds to help support research and awareness initiatives.
The experience fueled the fire to do more to raise awareness for the disease, which she knew little about before her sister was diagnosed.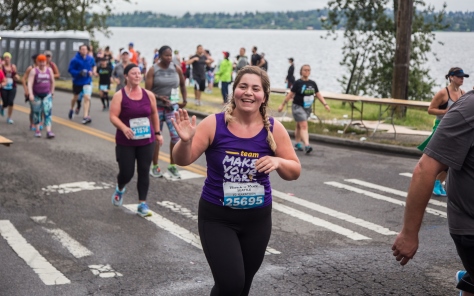 "My family was in shock, we were in the dark about the disease – a disease that took my sister's life shortly after she was diagnosed. We run to honor her, and we run for everyone in the lupus community who cannot do things like this because of physical limitations," said Danica. They inspire us to keep going, we know that what we are doing is important and we must prevail."
Now, Danica has encouraged about 30 family members to join her to raise funds and train to run a race to show their support for the lupus community. While many of her family members have signed up for shorter distances, Danica has decided to train for and run the full marathon this year.
"I will never know if I can do something until I try and I have no fear with my family by my side – we support each other and we will help each other succeed, no matter what," said Danica.
Danica's family has a mix of experiences with running and being active – from beginner to advanced – but from her perspective, this opportunity is much more than the experience of running in a race. Having the courage to stand up against a devastating disease and do something that will make a difference has been the greatest way that she has found to honor her sister.
Danica has started training for the marathon and she is already excited about race day.
"Everyone is going to finish, we're going to be there for each other and we'll never forget why we are doing this because the reason is so important to us," said Danica. "We've made a commitment to do this for my sister and for the lupus community, we have a great team this year and I'm going to fully enjoy every moment."
Danica will be running the Seattle Marathon on June 10, 2018. Her goal this year is to raise $1500 for lupus research.
Learn more about the program and sign up to participate in the Seattle Half Marathon or Marathon or a future race!