Blog
March 2, 2017
Allie Gutshall: My Fight for Life
Before lupus, I was fiercely independent, incredibly involved with my studies and led my school's student government senate. There wasn't a challenge I wouldn't take on with an ambitious attitude. That all changed when I was diagnosed with lupus in my senior year of college, January 2013. For the first time in my life, I was faced with a challenge I didn't think I could take on alone. But I wasn't alone. I am incredibly lucky to have a strong support system through my family and friends, especially my mother.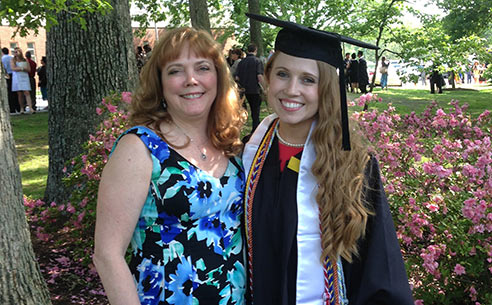 During the two months it took for me to be diagnosed with lupus, I came home from college to stay with my mom. She booked my doctor's appointments and went with me to all eight of them, trying to find an answer for the symptoms that left me immobile and in excruciating pain. When we finally found out I had lupus, I became incredibly depressed.  I had planned to serve in the Peace Corps after graduation and now I didn't know what the future held for me anymore. My mom stayed by my side through all of this, lifting my spirits and reminding me that the universe had other plans of greatness for me. She taught me that it is okay to say no when my plate is already full and it is okay to ask for help when I need it. These are valuable life lessons for anyone, with or without a chronic illness, but lessons I had ignored before being diagnosed with lupus.
I went off to Houston, TX, as a member of Teach for America upon graduation. During my first year, the stress from my job resulted in several flares and I elected not to return for a second year and instead chose to focus on restoring my health.
That is when my rheumatologist decided that I should try a biologic that is the only medication designed specifically to treat lupus. I often refer to this as my miracle drug because I went back to the person I was before I had lupus. I am now able to be active, work a full-time job, and pursue a graduate degree part-time. My state of euphoria did not last long though, as my new insurance company decided that it would not cover my drug because my blood tests were not positive for anti-nuclear antibodies, a common indicator of lupus. About 5 percent of those with lupus do not test positive for this indicator, but have many other symptoms and most definitely have lupus.
My mother was so happy to see me living a full life again and refused to allow me to become ill again because I couldn't afford my medication. She worked tirelessly, taking on a second job as my advocate, to find a way to get me coverage for my medicine. She coordinated numerous appeals to my insurance company and the drug manufacturer to try to overturn their decisions to deny me coverage. Finally, she found a way and secured me coverage through the drug manufacturer's patient assistance program. Without her, I know that I would be sick today and unable to live the fulfilling life I lead. For me, there is a silver lining in living with lupus: my mom and I have grown so close and I truly know just how much she loves me.