Blog
June 12, 2017
Alison Eckberg: Team Make Your Mark Champion
Later this month, Alison Eckberg will be running the Seattle Half Marathon as a member of Team Make Your Mark™ and the road that she's traveled to toe the starting line has certainly not been easy as she knows the struggles of lupus but refuses to let it define her life.
In fact, she learned to better manage her health and wellness after her lupus diagnosis.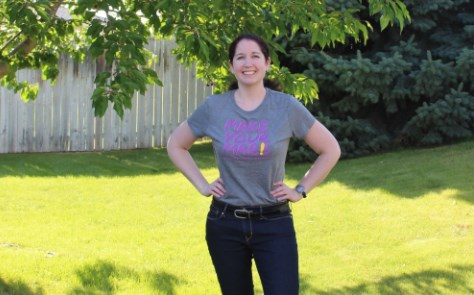 Alison had a skin rash for approximately one year before being diagnosed with stage IV lupus nephritis in 2014 at age 33. She lost her gall bladder in the summer of 2013 and developed hypothyroidism which caused her to lose her hair and gain weight. Alison started losing kidney function a few months later, in early 2014. That resulted in her eventual lupus diagnosis in June 2014.
Doctors prescribed an aggressive treatment of steroids and immunosuppressants and soon after had a seizure that resulted from multiple drug interactions.
While training has been difficult, setting a goal and achieving it has helped her regain control of her life after her diagnosis.
She struggled with health complications for a couple years before her symptoms began to improve and then last year, she was able to cut back on her treatment regimen and focus on improving her health while in remission.
Alison lost more than 40 pounds and won an 8-week challenge at the gym for losing the most weight of anyone in the program.
She said that while training has been difficult, setting a goal and achieving it has helped her regain control of her life after her diagnosis. Alison describes running as therapeutic, and Team Make Your Mark provides much-needed motivation and encouragement from people who truly understand the challenges and can appreciate the accomplishment.
Her training program has been focused on building mileage and effort gradually to avoid injury and burnout. Alison avoids hard training and instead focuses on gentle progress to minimize stress on her body and make the training program more manageable. She believes that Coach Dan's guidance and insights in addition to the support of Team Make Your Mark has made all the difference, and put success as a runner within her reach.
After the upcoming Half Marathon, Alison's looking forward to focusing on weight loss and staying in shape to avoid flare-ups in the future.
She is also planning to hike Mount Saint Helens, where she once worked as a park ranger. She last hiked to the summit in 2004 and would like to reach it again later this year.
While her life has completely changed since her diagnosis, she now has the strength to get better and has gained knowledge to better manage her health and well-being.
Visit Team Make Your Mark
Interested in setting your own goal while being part of a community of people who like you, are helping to solve the cruel mystery of lupus? Have a family member or friend who is looking for a challenge of their own?
Learn more