Personal Stories
Kevin Davis: Walking for a Purpose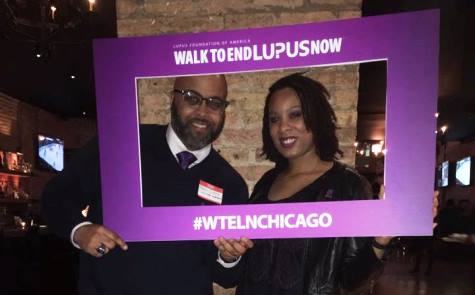 Kevin Davis was first introduced to lupus at the young age of four. Growing up with a mother who had this cruel disease meant that he spent his days at the hospital while she was on dialysis waiting for a kidney. His mother passed away from lupus when he was just nine years old, but his experience with the disease wasn't over – he currently has three family members suffering from lupus.
As an adult, Kevin has been able to move beyond the anger and pain he carried during his youth, and now channels that energy into something productive – putting an end to lupus. He's become a resource in his community for those who have been diagnosed with lupus and their loved ones who are beginning the challenging journey with the disease.
"I stopped and asked myself how I could raise money and awareness to make sure that nobody else has to lose their mom. I've leveraged all of my networks to help spread the word," said Kevin.
Kevin first heard of the Walk to End Lupus Now® Chicago in 2015 and immediately knew he wanted to get involved. Within 24 hours of registering for the event, he had already raised $1,000. He believes that his story resonated so strongly with people because he was candid about his experience and it came from his heart.
"I felt such love and support when I started fundraising and sharing my story. Seeing friends and family across the country talk and donate – some people I didn't even know, it really made me feel like I was making a difference." - Kevin Davis
The first time Kevin attended the Walk, he said it felt like going to a family reunion, except it was with people he hadn't met just yet.
"The walk is an incredible experience and you're surrounded by people working toward a common cause," said Kevin. "It's a wonderful way to get people in the community connected and talking about lupus."
Find a Walk to End Lupus Now event in your area.