Personal Stories
Bettina L. – Diagnosed at age 25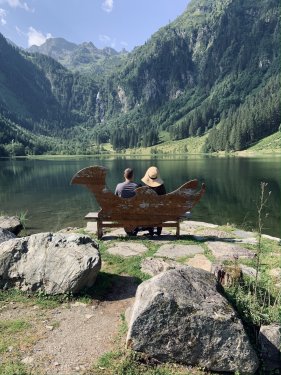 In February 2021, I had a drastic experience while driving my car home from work -- visual and acoustic hallucinations and being unable to control myself. It turns out I had an epileptic seizure and I went to the hospital. The reason for the seizures was a serious inflammation of my frontal lobe. I got diagnosed with autoimmune encephalitis.
During my hospital stay, I got the typical face rash and a lot of joint pain as well. Together with a very high ANA titer, urinary proteins and some other typical values, I was diagnosed with lupus after about 3 months in the hospital. I was diagnosed with SLE including CNS (systematic lupus erythematodes including central nervous system); my autoimmune brain inflammation was basically a lupus flare.
I immediately started an immunosuppressive therapy with infusions of rituximab every 6 months. I am now also taking hydroxychloroquine, methylprednisolone, and antiepileptics every day. In addition, I try to avoid stress, get enough sleep, keep protected from the sun, and maintain an anti-inflammatory diet. When I now think back, I basically had other symptoms that would also relate to lupus, like the EBV infection I got in 2012.
I had been to various doctors then, but they never thought about lupus. It was always unclear. I once went to an orthopedist because I thought it was "just" joint pain. I went to a gastroenterologist because of a stomachache but didn't tell them about swollen lymph nodes and other symptoms like fatigue or sun-sensitivity. I also didn't care too much back then, because after some weeks or months, the symptoms stopped (which now makes sense because they were just flares).
I'm not happy to have lupus, but I'm happy for its diagnosis and the treatment. I am in close contact with my immuno-neurologist since the brain inflammation and the start of my therapy. My family is very supportive and help me with everything so that I can have a better life. This brings me hope!