News
March 8, 2021
Sharing the Journey: Self-Advocacy Tips
The Sharing the Journey series is by you and for you. In your own words, we highlight the perspectives and personal experiences of people who struggle with lupus each day.
This month, we asked Sharing the Journey participants the following question: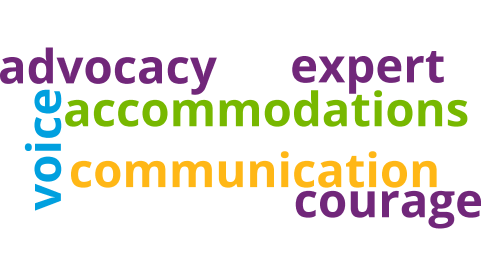 It takes incredible courage to advocate for yourself in any space. It's especially important to self-advocate when living with lupus to make sure you have a forum that ensures you have everything you need - from support at work or home to proper treatment at your doctor's appointment. What are some tips you have for self-advocating in the workplace, at school, at the doctors, and in your day-to-day life?
Really get to know yourself and your needs. As for school and the workplace, evaluate the laws, policies and procedures that directly affect you, or reach out to someone who you trust to translate that information accurately to you. At the end of the day, you are your best when you are healthy. Your doctor and the people in your day-to-day life cannot help you if you do not speak honestly about how you are feeling and what you need. – Kayla
It is so important to advocate for yourself in every aspect of your life. You are important! Your voice is important! Never allow anyone to dim your voice. If you need something at work or school or wherever, remember you are your best advocate and it is so important for you to share your concerns and get what you need. Without your voice, it's hard to get what you need. Even with doctors, keep sharing until someone listens. Your experiences are yours and your needs may be different from someone else's. You know your body better than anyone. What you are saying is valid and needs to be heard. Raise your voice high! – Angel
You are an expert in your own health. And you should be treated as such. Don't let anyone tell you that you can't do something. Only you can make that determination. – Leslie
Some ways I advocate for myself is by clarifying what exactly I need and want. I do this at school, as well as at work. I make it known to others about my illness. When speaking with my doctors, I do the same. Decide what you want. Clarify exactly what you need for yourself. – Kyra
Advocating for myself in the workplace means taking off when I am not well and being open with my employer about my illness. At the doctor's office I advocate for myself by doing my own research regarding medications and treatment that my doctor suggests before taking them. In my experience some medications that have helped others don't work for me. I like to talk with my doctors about additional treatment options for what works with my daily work schedule. In my day-to-day, I advocate for myself by listening to my body and knowing my limits. Sometimes that means not attending an event and not pushing myself too much. – Jaime
---
Patient empowerment is fundamental, especially when living with a chronic autoimmune disease like lupus. It's important to get involved in your health care and be your own advocate. By being your own health advocate, you're opening doors to greater insight on your care and treatment plans and what works best for you. You can even take control and increase your knowledge. This allows you to make more informed decisions about your health and so much more. 
We encourage you to play a role in your health care today by doing your research to increase your personal health literacy, asking questions, voicing your concerns and communicating how you feel to friends, family, and your care team. 
In the workplace, don't be afraid to ask your employer for reasonable accommodations to effectively do your job. When at school, be sure to communicate all medical, social, and emotional needs to your school officials. 
You'll be proud you spoke up in order to get the necessary tools, resources, and support you need. If you need help explaining lupus to others, consider developing a 30-second lupus speech. As our lupus warriors shared in this month's Sharing the Journey, you're your best advocate when it comes to your health, so don't hesitate to act.