News
June 28, 2018
Senate Committee Advances Funding for Lupus Research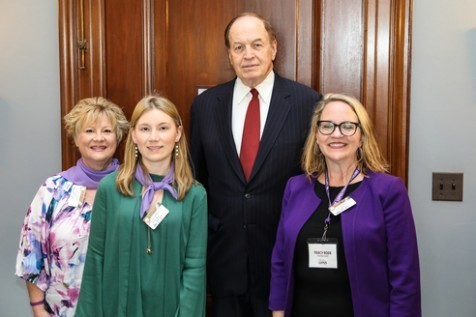 Today, the Senate Appropriations Committee voted to approve its Fiscal Year 2019 Department of Defense (DoD) Appropriations bill, as well as its Fiscal Year 2019 Departments of Labor, Health and Human Services, and Education (LHHS) Appropriations bill. Both spending bills include critical new funding to advance lupus research. This includes a $1 million increase for the National Lupus Patient Registry at the Centers for Disease Control and Prevention (CDC). 
Senate DoD Funding
The Senate Appropriations Committee's DoD bill includes specific language that directs funding to lupus research. With this vote, the Committee continues to recognize that more research into lupus is desperately needed.
Senate LHHS Funding
The LHHS spending bill contains critical funding for lupus research and education, including:
$7.5 million for the National Lupus Patient Registry Program at the CDC, a $1 million increase from FY 2018 funding!
A significant funding boost to a record $39.1 billion for the National Institutes of Health (NIH). This represents a $2 billion increase from 2018 funding!
$2 million for the Office of Minority Health's National Health Education Lupus Program. 
Importantly, the legislation includes language directing the CDC and OMH on how to utilize the funding. Specifically, the Committee encourages CDC to focus on natural history studies of lupus to determine the lifetime burden of the disease including on children, support existing childhood lupus registries, and to expand physician education by enhancing the National Resource Center on Lupus, which can reduce time to diagnosis and lead to earlier interventions. For OMH, the Committee supports continued efforts to develop action plans to increase minority participation in lupus clinical trials.
The Senate's support for the National Lupus Patient Registry at the CDC and for the clinical trial action plan at OMH – programs established through the Foundation's advocacy efforts – in addition to the funding at the NIH and DoD, once again validates the power of lupus advocates. Just three months ago, thousands of advocates visited, emailed and called their elected officials during the Lupus Foundation of America's National Advocacy Summit urging Congress to support these initiatives. Clearly, their voices have been heard!
The Foundation is also grateful for the Senate Appropriations Committee's leadership in support of people with lupus, particularly Chairman Richard Shelby (R-AL) and Defense Subcommittee Ranking Member, Dick Durbin (D-IL) who have championed efforts to advance lupus research. 
Next Steps
The bills now head to the full Senate floor for consideration. 
House Department of Defense Update
Earlier today, the U.S. House of Representatives passed their DoD spending bill which includes $5 million in funding for the Lupus Research Program. Click here to learn more. 
Please follow us on Twitter and Facebook, and sign up to become a lupus advocate to stay up-to-date on the latest lupus news from Washington and to learn when your outreach to Congress can make the most impact in the fight against lupus.