News
October 26, 2018
Lupus Research Highlights from 2018 ACR Meeting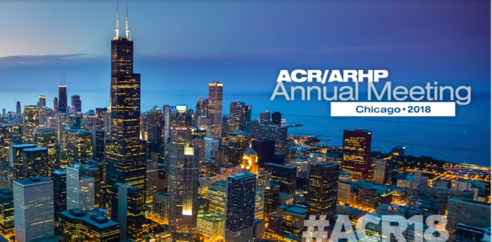 Attracting more than 15,000 attendees from around the globe, the American College of Rheumatology Annual Meeting 2018 (#ACR18) ignited excitement across the lupus community. More than 3,000 research studies were shared, including over 50 from researchers funded by the Lupus Foundation of America.
Researchers, clinicians and health care professionals were encouraged to see and hear how lupus research continues to advance – exploring possible interconnections, scientific approaches and new topics within the disease. The complexities of lupus are better understood and contributing to focused studies, which are yielding new discoveries for potential therapies. In short, the science is getting smarter.
Highlights
Many sessions focused on drug therapies, cellular studies, understanding disease progression, evolving treatment practices, and new scientific approaches. There were several new topics explored within lupus including trauma as a factor in developing lupus, mental health and disparities in treatment access.
Drug therapies took center stage 
A Great Debate about Plaquenil® (hydroxychloroquine [HCQ]) and its toxicity risk to the eyes was spearheaded by this year's Evelyn V. Hess Award recipient, Dr. Michelle Petri. The consensus among leading lupus experts was that issues from Plaquenil® related to the eye are minimal, but individuals with lupus should always work with their health care team to monitor all treatments. Dr. David Isenberg also presented promising updates for studies on Benlysta and Rituximab. Dr. Ronald van Vollenhoven presented promising news about Ustekinumab's effectiveness in treating lupus.
Other drugs that sparked conversation were XmAb5871, showing an ability to decrease risk of high disease activity, and the Zostavax® shingles vaccine, which appears to work well in people with lupus who were not receiving intense immunosuppression.
In addition, several drug trials in process show promise for people with lupus and lupus nephritis. Overall, lupus research is growing more precise, paying close attention to biomarkers for cardiovascular risk, kidney damage, retinopathy and death.
Interesting topics were explored, piquing curiosity and a desire to know more
Research by Dr. Candace Feldman found a 3x higher risk of people developing lupus if they were exposed to childhood trauma and abuse. A Lupus Foundation of America education campaign entitled "Be Fierce. Take Control." targeting minority women was featured at the ACR Meeting and found that online communication is an effective means for reaching this target group. Application of other disease care practice models, such as cancer and HIV, can be successful for people with lupus, particularly in urban areas. Improving access to care seems to be critical in outcomes and quality of life of people with lupus, with lower incidence of hospitalization, disease activity state, psychosis and mortality presented by several researchers.
The Lupus Foundation of America presented findings from several studies, including research on disparity in lupus care, treatment and education. Referral and management practices vary by the type of physician a patient presents to with lupus, and the patient experience differs between African-American, Latino and Asian groups.
Clinical and Translational Research
Innovative and non-traditional approaches to lupus studies are in effect across the globe. Cellular studies in lupus illustrate acceleration in medicine. Mesenchymal stem cells derived from the umbilical cord shows promise in slowing down the disease in people with lupus. Research from Nagasaki University Hospital showed that Podocyte cell width can be used to predict a complete resolve of kidney disease for people with lupus nephritis. Drs. Jill P. Buyon, Soumya Raychaudhuri, and Betty Diamond are studying renal cells among others in people with lupus nephritis to find new treatment targets and better ways to identify individuals that will benefit from these targeted approaches.
Dr. Vera Golder shared findings from a study that show how science is capturing more accurate measures of lupus. Maintaining low disease activity in people with lupus can help lower flares and damage accrual. Remission was found 5 to 10-fold to be less attainable than lupus low disease activity state.
Momentum
With consensus on less stringent clinical trial processes in lupus science and medicine, researchers and clinicians are increasingly focused on patient-centered biologics. Initiatives, such as The ALPHA Project: Addressing Lupus Pillars for Health Advancement, will be instrumental to identify lupus research barriers and finding solutions to expedite diagnosis, care, treatment and research.
This is an evolutionary and hopeful time for the lupus community as efforts across the globe are moving closer toward a cure. We look forward to #ACR19!