News
May 5, 2017
Bill Providing $13 Million for Lupus Signed into Law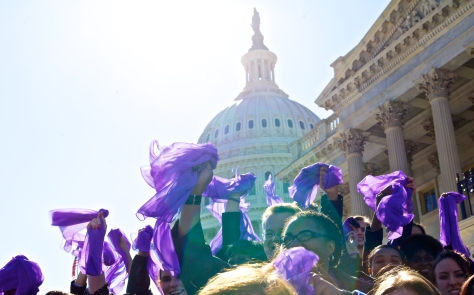 President Trump signed into law today the fiscal 2017 omnibus (H.R. 244) that includes $13 million in new funding specifically to advance lupus research, education and awareness. Earlier this week, the House of Representatives and Senate approved the spending bill, which also provides $34 billion for biomedical research through the National Institutes of Health (NIH).
This critical funding for lupus was made possible thanks to our grassroots advocates, the Congressional Lupus Caucus Co-Chairs (Rep. Thomas J. Rooney [R-FL], Rep. William Keating [D-MA], Rep. Ileana Ros-Lehtinen [R-FL], Rep. Eddie Bernice Johnson [D-TX]), and the leaders of the House and Senate Appropriations Committees.
 
"This significant increase in federal funding for lupus-specific medical research is a great victory for the lupus community."
—Sandra C. Raymond, President and CEO of the Lupus Foundation of America

"We are grateful to the Congressional Lupus Caucus Co-Chairs for championing funding for lupus research, and we thank Chairman Rodney Frelinghuysen for his leadership on the House Appropriation Committee for establishing the new lupus research program at the Department of Defense."
For more details on how this spending bill impacts lupus research and education, please read our earlier post: Congress Set to Approve $13 Million for Lupus.
Continue the Momentum – Register for National Lupus Summit
The Lupus Foundation of America's ongoing advocacy work and the efforts of its national network of lupus activists have been critical in the fight against lupus.
Plans to keep the momentum going are in place with the National Lupus Policy Summit set for June 26-27 in Washington, D.C. As part of the Summit, those impacted by lupus will help educate members of Congress about the true nature of the disease and why more must be done to advance lupus research and education on Capitol Hill. 
Visit www.lupus.org/summit to learn more and register today.