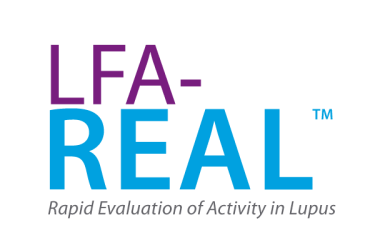 LFA-REAL™ System Improving Health and Quality of Life
The Lupus Foundation of America's REAL™ (Rapid Evaluation of Activity in Lupus) system is the first-of-its-kind, easy-to-use tool to monitor lupus disease activity. It addresses the needs and concerns of clinicians as well as people with lupus.
This system fills an unmet need in lupus clinical care and clinical trials. LFA-REAL™ incorporates not just the clinical perspective, but also highlights patient concerns and priorities. Measurement systems like LFA-REAL™ are commonly used for other diseases, but none existed specifically for lupus prior to LFA-REAL.
What is LFA-REAL™?
LFA-REAL™ is a two-part system that uses a series of simple questions and observations to determine a treatment's impact on a patient's health and daily life. One set of questions and observations, known as a Clinician Reported Outcome measure (ClinRO), is designed for clinicians. The other set of questions, known as a Patient Reported Outcome measure (PRO), is designed for patients and was created with patients' feedback and participation. The LFA-REAL™ system provides overall and organ-specific assessments, enabling physicians to make evidence-based, targeted treatment decisions. The system continues to undergo testing and revisions and is currently being used in several clinical trials as exploratory measures. 
Potential Benefits of the LFA-REAL™ System
The LFA-REAL™ system has the potential to:
Provide cost-effective, efficient clinical methods to evaluate disease activity in patients with lupus, enabling clinicians to choose the most targeted treatments.
Show treatment effectiveness and measure improvement as part of clinical studies, speeding development, evaluation, and approval of new and better treatments.
Provide critical information that supports insurance coverage of new treatments.
Reduce unnecessary treatments and administrative costs.
Current Scientific Publications
LFA-REAL™ has received global recognition for its significant role in advancing lupus research and care. Below are a few scientific publications on LFA-REAL™: