Blog
May 17, 2022
The Importance of Support - Q&A with Asian Community Support Group Leader, Karen Ng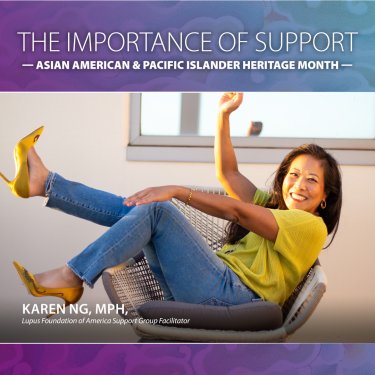 In honor of Asian American and Pacific Islander (AAPI) Heritage Month, the Lupus Foundation of America talks with Karen Ng, Asian Community Support Group facilitator, about finding support in the AAPI community. Read below to find out more:
Q: What role do support groups play in helping people live better with lupus?
Karen Ng: Support groups give you the tools to paint your landscape. At first, when your doctors and health care team give you a sketch, there may be a mountain or a forest or a cliff. The scene is rather barren and colorless. Participating in a support group helps you realize that there can be more to the picture. Knowing that you are not alone and there are other people with similar questions and concerns adds color. Hearing different people share their experiences and recommendations adds dimension. With a chronic disease as complicated and unpredictable as lupus, we need tools and reminders to help manage our health. With the skills and knowledge gained from attending a support group, pretty soon your landscape may have valleys, streams, and flowers! Support groups are a conscious and collective effort to make life better (and more colorful) with lupus!
Q: Why is it important for people of AAPI heritage to have a support group that focuses on their experience?
Ng: Lupus is multifaceted. There is so much medical information to absorb but only a limited knowledge of lupus in the AAPI community. Not only is there a lack of basic understanding of the disease but what is often overlooked is the psychosocial aspect of living with lupus. Since stress is intricately connected to the triggering of lupus symptoms, we must highlight the importance of mental health, which can be neglected in the AAPI community. Simply having a dedicated time to talk about our physical and emotional needs is enormously valuable. Sometimes, we feel more comfortable expressing ourselves among people who speak the same language, who come from similar backgrounds, and who are familiar with the same cultural influences.
Currently, there are support group meetings for the AAPI community in both English, through Lupus Foundation of America, and Cantonese, through Hospital for Special Surgery, LANtern® (Lupus Asian Network), so I encourage you to join a group where you feel safe and at ease.
Q: How can families and support groups work together to help a person with lupus?
Ng: When family and friends learn more about lupus, they can understand what to expect and what not to expect from their loved one with lupus. They can recognize treatment options and how various medications can affect the person – leading to increased compassion and patience. Support groups are a great way for family and friends to gain this knowledge since participants are crowdsourcing tips and sharing resources with each other.
Q: What can people expect when they attend a support group? What is it like?
Ng: Each support group is different, based on the facilitator, the format of the group, and on the composition of attendees at that particular meeting. With my support group, I try to keep it friendly and interactive. There is always an element of lupus education but also opportunities to share and learn about each other. I attempt to stimulate discussion and encourage people to examine their own health behaviors and coping skills. In particular, I try to explore how our culture shapes our lupus journeys. I want people to feel empowered – to be part of a group that understands and supports them.
Q: Why did you decide to lead a support group?
Ng: When I was diagnosed, I was totally unfamiliar with the disease and did not know a single person with lupus. I had to seek out information on my own in the late '90s when there was only an early version of Google and no Zoom webinars. Today, a person living with lupus can access a wide range of medical information online but the human element is still the most reassuring. I would like to provide a space where Asian lupus warriors can gain knowledge and support around their condition. I believe that I can use my lived experience to encourage others to learn to live healthier lives. I enjoy connecting people and fostering a group dynamic that encourages and lifts people up.
---
To find a group in your area or connect with the Asian Community Support Group, visit our support group information page. To get connected with an online lupus support group, visit LupusConnect.