Blog
September 14, 2021
Sharing the Journey: Tips on Sharing Your Lupus with Family and Friends
The Sharing the Journey series is by you and for you. In your own words, we highlight the perspectives and personal experiences of people who struggle with lupus each day.
This month, we asked Sharing the Journey participants the following question: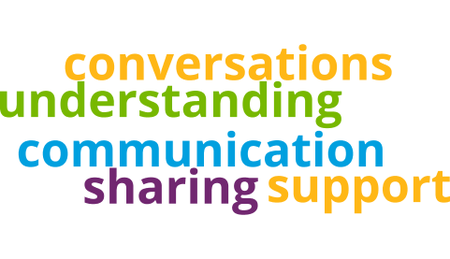 At times, opening up and talking to trusted loved ones about your lupus can ease uncertainty about how it impacts you, but it can also be difficult. What tips do you have for sharing with family and friends about lupus and how it can impact different parts of your life?
When I began to share with my loved ones about my lupus diagnosis, I used the Spoon Theory to explain. I also encouraged them to look up lupus for themselves to get a better understanding. Once they did, we would come back and have a conversation about it. I felt holding my diagnosis in was killing me because I didn't want to feel alone and opening up where they could understand helped them to support me in the way I needed.– Angel
One of the tips that has helped me is to be patient when opening up. Everyone won't understand what we're going through physically, especially when we don't always look sick. Another tip is to open up when you're ready and comfortable. Sometimes I'll wait to open up to new friends because I don't want their pity and I want them to get to know me first and not pre-judge me because of lupus. –Jaime
At times, I find it hard opening up about my lupus because I feel like it only victimizes me. My family is already not so supportive about my accomplishments and disregard that I have lupus. I feel like with lupus, my family holds me to a higher standard, and I can never say anything is wrong with me or I am a victim. One tip I have is to be mindful of who you are opening up to. Sometimes, even family and close ones aren't as supportive as friends or strangers. I learned that the hard way. Also, only surround yourself with people that are positive and encouraging. – Kyra
When talking with friends and family about living with lupus, I find it better to introduce them to your condition before it becomes a problem. I often explain how lupus impacts my energy first, because I will often need to cancel plans with family and friends because my lupus is flaring. I like to explain it as if everyone has a full glass of water and the water represents energy. Throughout the day, that water is slowly poured out until it gets low at the end of the day. For people with lupus, our glass starts only half or 3/4 full (depending on the day). That means we can be just as energetic, productive, and spirited as you, but we'll run out of energy much quicker. I've found this analogy to be a good way of explaining why I'm such an energetic person but I sometimes have to cancel plans due to my fatigue. I find fatigue to be the main lupus symptom that affects my relationships as it can stop me from spending time with people. So, I typically explain this to family and friends first! – Becca
---
As our lupus warriors shared, talking to family and friends about your lupus diagnosis isn't always easy. It can take some time before you're ready to talk about your symptoms and its impact on your daily life with those you trust. But when that time comes, make sure to surround yourself with individuals who care for you and will uplift you. As many lupus warriors know, living with lupus is physically, emotionally, and mentally challenging, but with the right support you'll be able to better cope. 
If you need help starting a conversation with your loved ones about lupus, check out our worksheet on How to Explain Lupus to Others. The helpful document provides sample responses to commonly asked questions. When explaining lupus to others, you might also want to share details about your treatment and general facts about lupus. And for those in your life that are interested in learning more about lupus and gaining a better understanding, share with them our communication tool on How to Help. Lastly, so many valuable friendships have formed in our lupus community, so if you find connecting with others impacted by the disease to be easier, LupusConnect and our network of support groups are great places to develop those relationships.