Blog
April 4, 2019
Moving and Grooving to End Lupus
"My mom has lupus, and I always wanted to do something for the Lupus Foundation of America – but I wanted to do more than just donate. I wanted to get people involved," shared Jocelyn.
Jocelyn's mom Alice was diagnosed with lupus in her 20's after seeing multiple doctors and dealing with symptoms ranging from fatigue to joint pain. Now, her mom's lupus is well managed but Jocelyn was determined to make a difference!
"With Make Your Mark™, I was able to create my own fundraiser. Zumba is huge in Hawaii and I knew it would be a great way to get people together for a cause that means so much to me and my family," shared Jocelyn.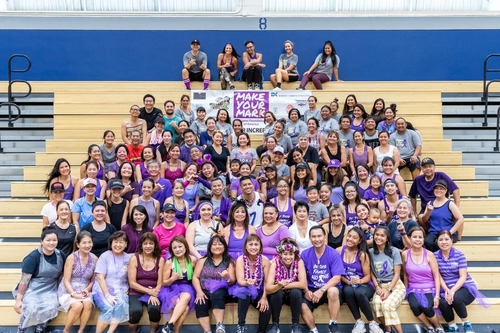 With the help of her friends and family, Jocelyn hosted a Zumbathon and nearly tripled her $1,000 fundraising goal while also increasing lupus awareness within her community.
"I'm so glad that Jocelyn is doing everything she can to reach out into the community and raise awareness of lupus – not just for me, but for all of us who live with this cruel disease," shared Jocelyn's mom Alice. "It gives me hope for the future – my heart is so touched by everybody who came to show their support."
Jocelyn plans to make hosting a fundraiser an annual endeavor. Her two biggest tips for people thinking of hosting their own Make Your Mark fundraiser is that it doesn't have to be a huge event to have a big impact and to just do it!
Learn more about the Make Your Mark fundraising program and start your own fundraiser for Lupus Awareness Month this May.