Donate - Help Us Solve the Cruel Mystery
Thank you f?or your interest in the Lupus Foundation of America, Iowa Chapter.
Contributions from concerned individuals help to ensure the ongoing success of the foundation's work to educate, support and to find a cure for lupus. You can help to advance and strengthen these important efforts by:
Help LFA-Iowa Advance Its Mission Work
Our mailing address is:

LFA, Iowa Chapter

P.O. Box 13174 Des Moines, IA 50310

Workplace Giving
Community Health Charities: www.healthcharities.org/iowa
Many companies will match your donations, for more information on corporate match programs ask your compnay's Human Resources Manager.
Donations of Grain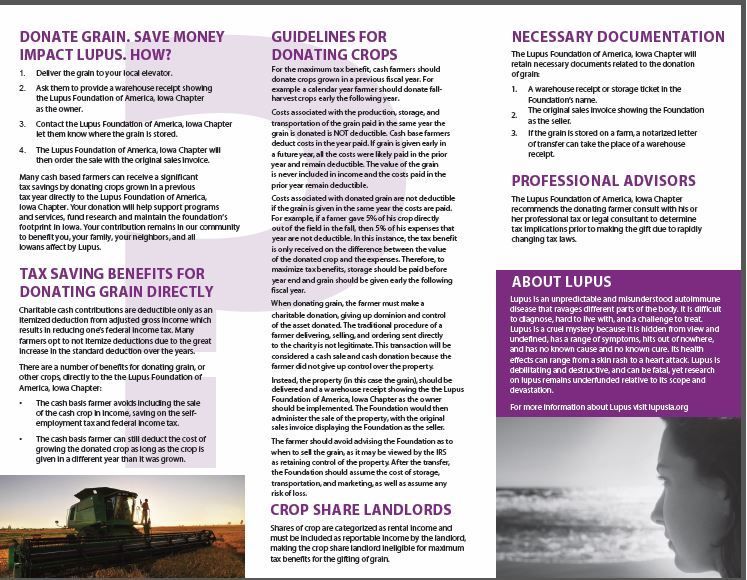 In Loving Memory
Join us in remembering the lives and legacies of all affected by lupus. Designing or contributing to a memorial page for a loved one enables you to share memories and acknowledge the devastation of this disease. Memorial pages are designed to help loved ones remember those who have passed away, so that we may not forget them or the high toll of this disease.
We embrace your courage and mourn your losses. We appreciate your willingness to share your most personal memories for the benefit of others. We realize that each name represents a precious part of you that was taken away too soon, and we thank you for supporting us in the never ending endeavor of solving this cruel mystery.
To create or contribute to a memorial page please complete this form. Donations honoring a loved one can be made here. Questions can be directed to our chapter office at 515-279-3048.
In Loving Memory of...