Providing Answers, Support and Hope in Georgia
This is my chapter |
Reset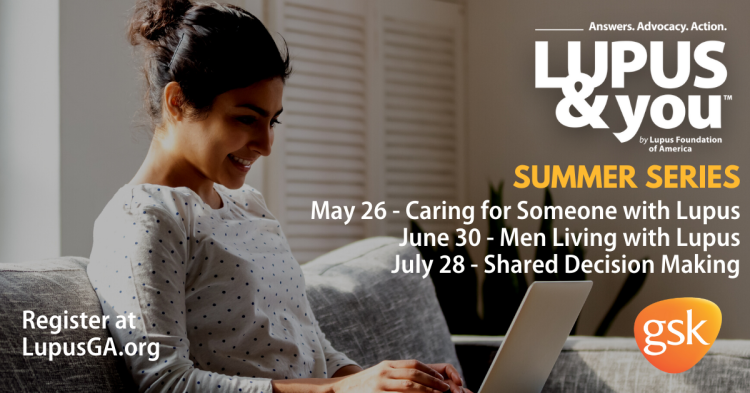 Meet Courtney Mitchell
Courtney Mitchell, BSN, MSN, CFNP is a Patient Engagement Liaison (PEL) with GSK. She has six years' experience in the pharmaceutical industry supporting physicians, nurses, and patients in the specialty lupus and lupus nephritis. Courtney also practiced as a nurse practitioner in rheumatology and surgical oncology for 10 years prior to joining GSK.
Caring for Someone with Lupus - Thursday, May 26th at 7 p.m.

Having people to love and care about is never a burden. But watching them suffer with an illness like lupus can be. Get tips to help you be the lupus caregiver your loved one needs. Join us as we provide practical strategies for navigating your role as a caregiver. Caregivers, people living with lupus, and their families are encouraged to join in this conversation.
Register Today
Men Living with Lupus - Thursday, June 30th at 7 p.m.
A lot of misinformation exists about lupus, and men with the disease may discover that people are often surprised to learn that they have it because of the incorrect belief that lupus only occurs in women.

Research suggests 1 in 10 of those with lupus are male. Men develop the same typical clinical manifestations of lupus as women, yet certain key symptoms may be more pronounced in men than in women. For example, when men with lupus have kidney involvement it tends to be more severe. Join us as we share strategies for navigating the world of lupus as a man.
Register Today
Shared Decision Making - Thursday, July 28th
Shared decision making is an approach where the doctor, patient, and the patient's caregiver work together to make health decisions. This webinar will help you make the best choices for your health by identifying and sharing your goals, personal beliefs, and risk thresholds to get the most out of your lupus care. Joanne will also share tools and resources available through GSK Us in Lupus to assist you in the decision-making process.
Register Today