Providing Answers, Support and Hope in the Southeastern US
This is my chapter |
Reset

Florida's 3rd Annual Lupus Empowerment Summit
The Annual Florida Lupus Empowerment Summit is an experience that celebrates, inspires, supports, and uplifts lupus warriors, their care partners, families and friends. The event is designed to empower attendees through expert-led sessions that will help them better navigate a life with lupus and make meaningful connections with other attendees that will last far beyond the day's event.
This year's event will be delivered virtually and include live question and answer sessions.
Coffee Chat
9:15 - 9:30 AM 
Welcome and Update from the LFA Florida Chapter
9:30 - 9:45 AM
Amy Yalden, President and CEO of the Lupus Foundation of America, Florida Chapter 
Living Safely During a Pandemic
9:45 - 10:30 AM
Lyda Cuervo Pardo, MD University of Florida, School of Medicine
Vaccines and the Immune System Living with Lupus is tough enough without a pandemic. Learn about the Covid-19 vaccines and how to remain safe.
Lupus Nephritis: A New Pathway
10:30 - 11:15 AM
Dr. Mark S. Segal, MD, PhD University of Florida, School of Medicine
The last year has been a breakthrough year for Lupus Nephritis. Learn how about symptoms, how to manage, and discover new treatment options.
What's New in Lupus? Research Updates 2021
11:15 - 12:15 PM
Westley H. Reeves, MD University of Florida, School of Medicine
Our knowledge and the treatment of lupus continue to evolve. Learn about the latest information to help you or your loved one live better with lupus.
Networking/Lunch Break
12:15 - 12:45 PM
The Perspectives Panel
12:45 - 1:15 PM
A candid conversation with lupus warriors and caregivers/partners.
Connections Breakout Sessions:
Warrior Roundtable
1:15 - 2:00 PM
Amy Yalden
An open discussion for lupus warriors only
Caring for Someone with Lupus
1:15 - 2:00 PM
E. Aliciee Griffith, BSN, BS, RN GSK Patient Engagement Liaison
Fredda Steidle, MPS
Learning to support our lupus warriors while caring for ourselves
Meet Our Speakers
Westley H. Reeves, MD University of Florida, School of Medicine
Dr. Westley H. Reeves is professor and chair of the University of Florida, School of Medicine, Division of Rheumatology and Clinical Immunology. After earning his medical degree from Yale University, Dr. Reeves completed his residency in Internal Medicine at Columbia Presbyterian Medical Center, followed by a fellowship at Rockefeller University.

In 1996, the American College of Rheumatology bestowed one of their highest honors, an ACR Fellowship, on Dr. Reeves. Dr. Reeves' research focuses on the mechanisms of autoimmunity in systemic autoimmune diseases such as systemic lupus erythematosus (SLE), polymyositis, and Sjogren's syndrome. Currently, Dr. Reeves and the UF Lupus Research Center are investigating the hypothesis that different manifestations of lupus (clinical and serological) result from the over production of specific cytokines in patients and animal models. This research will help illuminate the interrelationships
Mark S. Segal, MD, PhD University of Florida, School of Medicine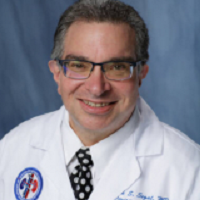 Dr. Mark Segal completed his undergraduate work at MIT and was recruited to the MD/PhD program at The University of Texas Southwestern Medical Center at Dallas. His internship and residency were at The University of Texas Southwestern Medical Center at Dallas, followed by a Nephrology fellowship at Beth Israel Deaconess Medical Center. In 1999 he was recruited to University of Florida and appointed Chief of the Division of Nephrology in 2010. He is well-funded and has been awarded grant funding from the NIH, AHA, JDRF, LRI, and Veterans Administration for his research on novel markers of cardiovascular risk.
Dr. Segal has presented his research at national and international meetings and has been taking care of patients with lupus since 1998. In addition to caring for patients with lupus, he has participated in a number of lupus nephritis trials. Dr. Segal's research focuses on the mechanisms of the increased cardiovascular disease in patients with diabetes, chronic kidney disease, systemic lupus erythematosus (SLE), and women who have preeclampsia or preterm delivery.
His hypothesis is that a key determinate of whether an individual will develop chronic kidney disease or atherosclerosis is the ability of the individual's endothelium to tolerate their level of blood pressure, glycemia, or other stressors to the endothelium.
Lyda Cuervo Pardo, MD University of Florida, School of Medicine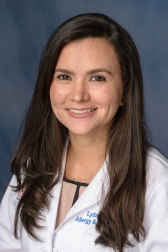 Lyda Cuervo Pardo, M.D. is an assistant professor of medicine in the division of rheumatology, allergy and clinical immunology and a physician at UF Health Allergy – Springhill. Dr. Cuervo received her medical degree at the Universidad del Valle Medical School, and was a postdoctoral research fellow at the Clinical Research Unit of the International Center for Medical Research and Training (CIDEIM).
Dr. Cuervo completed her internal medicine residency at Cleveland Clinic followed by an allergy and clinical immunology fellowship at Northwestern University Feinberg School of Medicine.
Dr. Cuervo is dedicated to participating in organizations and programs to remain relevant in the field. She has received numerous travel grants to attend conferences such as the American Academy of Allergy, Asthma and immunology Annual Scientific Meetings and Easter Allergy Conference. Dr. Cuervo is an active junior committee member of the World Allergy Association.

Meet Our Panelist
Natasha Slaughter
Natasha Slaughter began experiencing Systemic Lupus Erythematosus (SLE) symptoms in 2005 and was officially diagnosed in 2009. When her SLE symptoms put a halt to her career in 2013, she turned to volunteerism which led to her journey to becoming an entrepreneur.
Natasha has always had a passion for non-profits and not-for-profit organizations. During her 17+ years as an HR and Learning & Development professional, she devoted time to develop future community leaders in the areas of education and human resources through her volunteer efforts. Today, in addition to being a Lupus Advocate and Lupus Support Group Facilitator; she is a board member with the Society for Human Resources Management (SHRM) Jacksonville Chapter in addition to being the Founder of NEx Chapter Media Group where she provides marketing, consulting and administrative support to nonprofit organizations and professional associations.
Natasha graduated from the University of Florida with a Bachelor of Science degree in Business Administration. She is also a Senior Professional in Human Resources (SPHR) and SHRM Senior Certified Professional (SHRM-SCP).
Gabrielle Davis
Gabrielle Davis is a former news journalist turned lupus/patient advocate who uses her candid experiences of living with lupus, chronic illness, and an invisible disease to spread awareness, particularly among underserved populations and those who make decisions that directly impact underserved populations.
Diagnosed in 2009 as a 27-year-old newlywed, Gabrielle began her social media presence under Lupus Sistas, to connect, educate and support the lupus community. Since then she continues to provide lupus education and awareness in her local community, legislatively and for the medical community
Rob Reinhart
Robert and his wife April (the ubiquitous Lupus care partner), live in Tampa and are parents of three terrific sons, their oldest is 25 and their identical twins are 23. He is a Florida Licensed Professional Structural Engineer and Co-owner / Vice President of Biller Reinhart Engineering Group, Inc. Diagnosed with Systemic Lupus Erythematosus, Hashimoto's, and Raynaud's in 2010, Robert is challenged with joint pain and swelling, advanced osteoporosis, chronic peripheral neuropathy, tinnitus, migraines, kidney stone manufacturing, photosensitivity and fatigue.
In addition to numerous prescription medications to alleviate Lupus manifestations, he is sustained with Benlysta infusions every four weeks and arranges life accordingly. Robert participated in SABLE, a clinical study that is tracking the long-term side effects of Benlysta. Attempting to align Lupus-induced physical limitations and the need to be active, he is a Bikram yoga practitioner and swimming enthusiast.
With generous support from family and friends, Robert is team captain of The Wolf Repellent Crew for Tampa's Walk to End Lupus Now LFA event since its 2011 inception. He had the privilege to meet with US Representative Kathy Castor in Washington D.C. for Lupus Foundation of America's 2017 National Policy Summit to discuss continued Congressional funding for Lupus research and education programs.
Robert participated in the Lupus Ambassadorship program in 2018-2019 for the Lupus Foundation of America Florida Chapter with April. He is ardently resolved to carry on the fight for finding a cure for Lupus and being part of the advocating momentum for critical new studies to improve understanding of the disease and lead to new treatments for people living with this cruel and potentially fatal disease.
April Reinhart
April Reinhart lives in Tampa and has been married to her husband Rob for 28 years. They are the proud parents of three grown sons, an older son and identical twins. After several years of looking for answers to Rob's health concerns, which began in his 40's, he was diagnosed with Systemic Lupus in 2010. April is a French teacher and tutor working mostly within the homeschool community. She also enjoys teaching cake decorating along with decorating cakes for her family and friends. April has been organizing fundraisers and participating in the Tampa Walk to End Lupus Now every year since it first began in 2011. To date, "The Wolf Repellent Crew" walking team has raised several thousand dollars for the LFA. April was proud to serve along with her husband as a Lupus Ambassador for the state of Florida in 2018-19. She is passionate about creating a support network for care partners of all types so that we can connect with other couples, spouses, mothers and parents managing the daily challenges of Lupus. April feels that Lupus is a "we" disease since it affects all aspects of the family and friends dynamic. She is hoping to work to create an understanding of this disease so the "we" dynamic is a positive one
Supported by unrestricted grant from: