Walk To End Lupus Now

2015 Walk to End Lupus Now
When you take part in a Lupus Foundation of America Walk to End Lupus Now event, you experience firsthand the power of the movement to end lupus. The Lupus Foundation of America is the only national force devoted to solving the mystery of lupus, while giving caring support to those who suffer from its brutal impact.
Register to walk and unleash your power by raising funds for lupus research and local support services, while increasing awareness and public support for those who suffer from lupus.
The Heartland Chapter conducts two walks in St. Louis and Kansas City and supports a community walk in Quincy, IL. The 2014 Walks raised a combined total of over $142,000 and had nearly 2,000 walkers.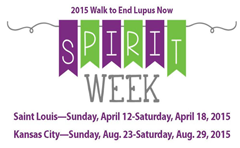 EVERY WALKER IS A FUNDRAISER. With every dollar you raise, YOU have the power to bring us that much closer to solving the cruel mystery of lupus.
Schedule your fundraising events during SPIRIT WEEK
Click Here for details.

If you join the fight, we will not have to concede victory to this terrible disease. If you join the fight, we will be able to solve the cruel mystery of lupus in our lifetime and end its devastating impact on millions of lives. Join us for one of our Walks!
Pictures and Results
2014 $1000 Team Club - Roll Call
QUINCY, IL - Team Kendall-$10,000
STL - HowZak-$4,216
KC - Susan's Lupie Groupies-$3,930
STL - Slammin Sammies-$3,354
STL - Team Hombre Lobo-$3,265
STL - Val's Dream Team-$2,721
STL - NorthLup-$2,515
KC - Harts & Souls-$2,355
KC - Walk for Chareka-$2,349
STL - "B"lievers-$2,214
KC - Judy Miniace-$2,185
STL - The A Team-$2,135
STL - R & R-$2,020
STL - Team Kri-$2,020
STL - WashU Wolf Pack-$1,972
STL - Team Fred-$1,972
STL - Angelic Ambition-$1,856
QUINCY, IL - Mandy Pandy's Team Stambaugh-$1,473
KC - Team Aisha-$1,400
STL - Team Roscoe-$1,350
STL - Team Kelly-$1,350
KC - Lewis vs Lupus-$1,325
STL - Lovely Ladies Living with Lupus-$1,310
STL - Happy Lupus Feet-$1,285
KC - Team Cindy-$1,280
STL - Who Got Game Kickball League-$1,265
STL - B.E. Scaife Plumbing Company-$1,235
STL - TeamD4C-$1,155
STL - Weenie Walkers-$1,144
KC - LaTanya Lipprand-$1,135
STL - Think Big for a Better Tomorrow-$1,125
KC - Children's Mercy Rheumatology-$1,123
STL - Team Zhenny-$1,122
STL - Lupus Loopers-$1,115
STL - Lupie Liz-$1,055
STL - M&M's-$1,045
STL - Team Dani-$1,030
KC - Walking By Faith 4 Lupus-$1,001
STL - Elsevier-$1,000
Find us on Facebook: http://www.facebook.com/LFAheartland
Find us on Twitter: https://twitter.com/LFAHeartland
Find us on Instagram: http://instagram.com/lupusfaheartland
Email us online: WalkToEndLupusNow@lfaheartland.org