MAY IS - LUPUS AWARENESS MONTH!
Join the growing number of individuals, businesses, communities, media and celebrities that Put on Purple for lupus awareness and tell people why. Getting your purple on is an easy way you can help the Lupus Foundation of America raise awareness of lupus and show support for those who are living with the disease.
Tools to Promote Put on Purple
Attached to the bottom of the page you fill find:
-A flyer you can print to use to promote Put on Purple.
-A Put on Purple logo to use as your profile picture for social media, include in your email signature, company newsletter, etc.
-A Dress Down Day flyer to use to promote awareness while fundraising for the cause.
THE BASICS
May is National Lupus Awareness Month
Friday, May 15, 2015 is Put on Purple Day. Wear purple and ask your friends, family, and coworkers to join you to help raise awareness of lupus and show support for those living with the disease.
Wear purple proudly and tell people why!
Everyone is encouraged to wear purple on May 15! If you like, you can wear one of our purple lupus awareness bracelets. You can purchase the wristbands by calling us at 314-644-2222 or toll free at 800-958-7876 or email us at info@lfaheartland.org.
Consider organizing office-wide or company-wide participation. Take pictures of your participation and share them with others:
-Take a photo of yourself or your group wearing purple and email it to: info@lfaheartland.org.
-We will post photos on our Facebook page all day during Put on Purple Day.
-Post your photos on Facebook and Twitter using the hashtag #PutOnPurple or #POP
GET THE WORD OUT
Tell all of your friends, family, co-workers and neighbors about your participation in Put on Purple Day.
Send letters/emails/Facebook/Twitter messages to everyone you know announcing your commitment. Invite them to join you by wearing purple on May 15!
The Heartland Chapter will share lupus facts and information throughout the month of May on our Facebook Page https://www.facebook.com/LFAheartland and we encourage you to like and share this information to educate your co-workers, friends and family members.
GET COMPANY SUPPORT
-Ask the highest-ranking person in your company or group to send out an endorsement memo announcing that he/she will Put On Purple on May 15 to raise awareness of lupus and ask others to do the same.
-Talk with your Human Resources or Wellness/Community Relations manager for assistance in recruiting efforts.
-Make Put on Purple Day a "Dress Down Day" and ask everyone to donate $5 to dress down and wear purple to raise awareness of lupus.
-Include an article about lupus in your company newsletter or email and invite people to Put On Purple.
MAKE A DONATION TO HELP US SOLVE THE CRUEL MYSTERY
In addition to raising awareness, you can help fund research to find the cause and cure for lupus and support programs and services provided to people living with lupus in Missouri, southern Illinois and eastern Kansas. CLICK HERE to donate online or mail a check to the address below.
Help Us Celebrate Lupus Awareness Month




#GiveSTLDay May 5!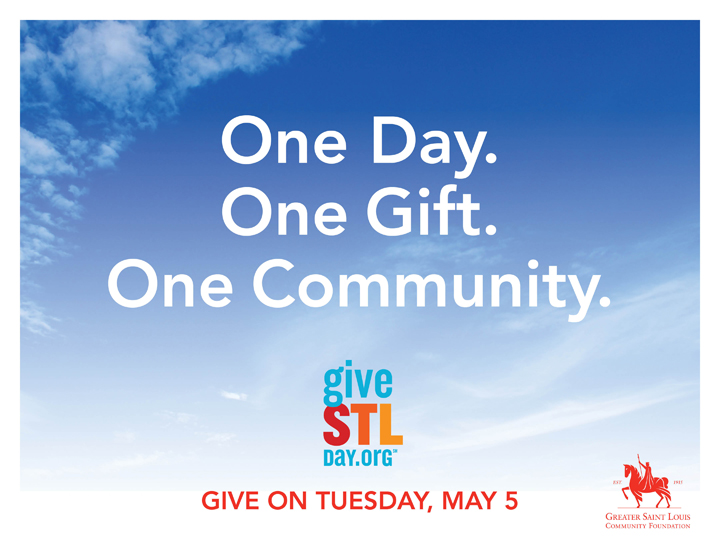 It's on! Once again, the Lupus Foundation of America, Heartland Chapter is participating in Give STL Day, which will be held on May 5, 2015. Give STL Day is a big, bold opportunity for us and for our community. A partnership between the Greater Saint Louis Community Foundation and local nonprofits from across the area, Give STL Day is an online day of giving where nonprofits like ours will be reaching out to our donors – and looking for new ones – as we educate them about our mission and raise operating funds.
Local impact with a national twist. Like last year, we will be joining more than 100 communities across the country to raise millions of dollars for the greater good—all on a single day.
Everyone can be a philanthropist. On May 5, we're asking every person in the St. Louis area to get behind this effort and give. Large and small gifts will combine for big impact— It's time to think big.
Single day, lasting impact. All the funds raised will benefit participating nonprofits right here in our hometown. It's time to be bold.
A virtual event with a personal touch. The Give STL Day website will make giving easy, safe and fun. By visiting givestlday.org on May 5, you can designate gifts to the organization(s) of your choice that are doing essential work in our community. At the same time, you can help us raise essential support and earn matching funds.
CLICK HERE to support the Lupus Foundation of America, Heartland Chapter on Give STL Day on May 5th!
Participate in a May Lupus Awareness Event or Plan Your Own
Join us for one of the many events taking place throughout our chapter territory during May Lupus Awareness Month or plan your own event. If you need assistance or if you have an event planned, contact us at info@lfaheartland.org or 314-644-2222 or 800-958-7876.
Upcoming May Events
May 2, 2015
St. Louis Walk to End Lupus Now
Carondelet Park
3PM - Registration, 4:30PM - Walk Begins
May 8, 2015
360 Worldwide Dodge Ball Tournament
1227 Washington Ave.
3PM - Tournament Start
May 9, 2015
Quincy Community Walk to End Lupus Now
Quincy Jr. High
9AM - Registration, 10AM - Walk Begins
Event Contact: (217) 316-3513, Yvonne.tucker13@gmail.com
May 21, 2015
Public Forum: Your Health Matters - Lupus
In conjunction with Urban League of Metro St. Louis & Federation of Block Units
Vaughn Cultural Center
3701 Grandel Square, St. Louis, MO 63108
6PM -8PM
Event Contact: 314-506-5305, Tcarter@urbanleague-stl.org
May 30, 2015
3rd Annual Lupus Awareness Happy Hour
Indie On Main, Kansas City MO 64105
5-9PM
Event Contact: (816) 304-8994, marlasandifer@yahoo.com
Phone: 800-956-7876
Email: info@lfaheartland.org