Community Events in Support of the LFA-DMV Chapter
Furious 7 Fundraiser
Paragon Theater (Center City),
11810 Fountain Way, Newport News, VA 23606
Sunday, April 5; 4:30pm - 6:30pm
Please join the Lupus Foundation of America DMV Chapter at our Movie Fundraiser event for the 2015 Virginia Walk to End Lupus Now in Newport News! The proceeds from this fundraiser will go directly to the LFA DMV Chapter to help provide resources and assistance to lupus patients in the Hampton Roads community! Furious 7 is a highly anticipated movie and we would love for you to join us, have fun and help a worthy cause!
Tickets can be purchased here!
Dine and Donate
London Curry House-Cameron Station, 191 Somervelle Street, Alexandria, VA
Tuesday, April 14, 2015, 4:30pm - 10:00pm
Join the Alexandria Support Group as they join together to raise awareness and funds to support LFA-DMV's DC Walk to End Lupus Now. London Curry House will donate a percentage of all sales to LFA-DMV
Tax deductible contributions welcome - checks payable to LFA-DMV
Come for Happy Hour!
Have dinner!
Treat yourself to dessert!
Stock up on beer/wine
Buy gift cards (for yourself and others)!
Eat Wings. Raise Funds.
Buffalo Wild Wings, 4201 Kilgore Avenue Peninsula Town Center, Hampton, VA 23666
Friday, May 22nd; 11:00am
Come to Buffalo Wild Wings in Hampton, VA and join us as we enjoy some great food, good people and raise money for LFA-DMV. BWW will donate 10% of all pre taxed sales to LFA-DMV. Make sure you bring this ticket with you when you come.
Purple Party for Lupus
Heritage High School, 5800 Marshall Avenue, Newport News, VA 23605
Saturday, May 23rd; 1:00pm - 4:00pm
Join the Newport News crew for a zoombathon in support of the 1st annual Virginia Walk to End Lupus Now in Newport News. Tickets are $10 and will be sold by instructors. Contact Chas at 598-4532 or Bina at 757-504-0135.
_____________________________________________________________________
Opinions for Good
Support the Lupus Foundation of America - DC/MD/VA by joining Opinions for Good (Op4G). Op4G is an online market research company that offers members paid marketing surveys. Members pick an organization to support with their earnings and the percentage of their earnings they wish to give. It only takes a few minutes to sign up. Become a panelist for LFA - DMV: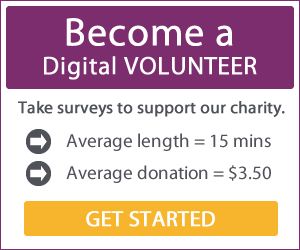 AmazonSmile
We are now a recognized partner of AmazonSmile, the fundraising wing of Amazon. Anyone can shop AmazonSmile and a portion of their purchase supports our Chapter.
_________________________________________________________________
Active for Lupus!
Get active for Lupus in 2014! Do you run, bike, swim or walk? Sign up for a local event in your community and help raise funds for the Chapter. Join Team RunWalkCrawl as we participate in races all over the country to raise money for the Lupus. We provide the fundraising platform for you to go out and raise money for lupus.

Learn More!