Community Events in Support of the LFA-DMV Chapter
Benefit Concert Featuring National Recording Artist Carronne Jones
The Palladium, 2900 Liberty Heights Avenue, Baltimore, MD 21210
Saturday, October 4, 2014 @ 5:00-9:00 PM
You are invited to attend a benefit dinner and concert featuring Award Winning and National Recording Artist Carronne Jones. This one night event will feature vocalist Micah Smith and Marc Evans as Master of Ceremonies. Tickets and Table Sponsors are available for purchase.
Bingo Fundraiser
Moose Lodge, 1911 Crain Highway S, Glen Burnie, MD 21061
Sunday, October 5, 2014 @ 1:00 PM
Join LFA-DMV for a Bingo fundraiser in honor of Crystal Hultz. Pandora and Coach prizes are available. Tickets are $20 in advance and $25 at the door. To reserve your spot please call Kristina at 410-802-8849 or send an email to AMAZING_HELP@yahoo.com.
Party and Fundraiser Commemorating the 2nd Anniversary of the Shop Talk with Cassandra Renee Radio Show
Best Western Plus Ballroom, 1100 Cromwell Bridge Road, Towson, MD 21286
Saturday, November 8, 2014
Join Cassandra Renee as together we celebrate the 2nd anniversary of the Shop Talk with Cassandra Renee Radio Show. A portion of the proceeds will be donated to the Lupus Foundation of America - DC/Maryland/Virginia Chapter. Tickets are available.
Washington Nationals Coupon Code - GOOD FOR ENTIRE 2014 REGULAR SEASON
When purchasing tickets to see the Washington Nationals play during the 2014 season HERE, enter coupon code "lupus" at check out to receive a discount off your ticket! A portion of ticket sales will also benefit the LFA-DMV chapter.
Opinions for Good
Support the Lupus Foundation of America - DC/MD/VA by joining Opinions for Good (Op4G). Op4G is an online market research company that offers members paid marketing surveys. Members pick an organization to support with their earnings and the percentage of their earnings they wish to give. It only takes a few minutes to sign up. Become a panelist for LFA - DMV: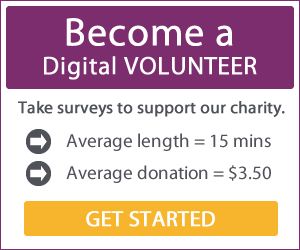 AmazonSmile
We are now a recognized partner of AmazonSmile, the fundraising wing of Amazon. Anyone can shop AmazonSmile and a portion of their purchase supports our Chapter.
_________________________________________________________
Active for Lupus!
Get active for Lupus in 2014! Do you run, bike, swim or walk? Sign up for a local event in your community and help raise funds for the Chapter. Join Team RunWalkCrawl as we participate in races all over the country to raise money for the Lupus. We provide the fundraising platform for you to go out and raise money for lupus.

Learn More!