Your Actions Get Results!
As we reflect back on another Lupus Awareness Month, we are once again amazed at the successes we've achieved together this year. More than ever, people are speaking out about lupus and that's all thanks to you. You took actions to raise the profile of lupus by sharing infographics and facts (reaching 4.2 million people on Facebook alone!), joining Walk to End Lupus Now™ events around the country, or just putting on purple and telling people why.
Dear Lupus…
New this year was Dear Lupus, a video campaign asking people to share how lupus has impacted their lives. We received stories from all over the country. Though the stories were heartbreaking, we were inspired by your strength and courage. One such video is from Team JMJ, who lost their sister to lupus in 2011. Watch it now and see the rest at dear-lupus.tumblr.com.
Put On Purple
Did you know Put On Purple (POP) Day only started as a national campaign in 2012? We encouraged everyone around country to wear purple and tell people why, and had local buildings and fountains lit purple to show their support for lupus awareness. Now in its 3rd year, the successes have only been more incredible.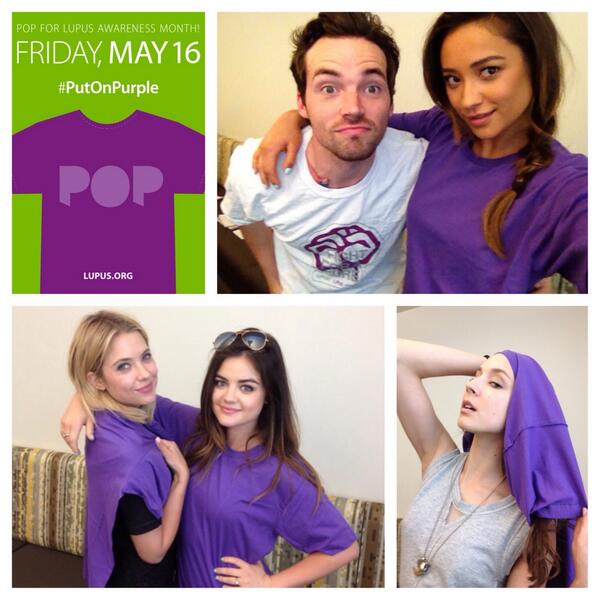 Actor (and Lupus Now cover model) Ian Harding and his cast mates from Pretty Little Liars wore purple to kick off the campaign and encourage others to do the same. People with lupus, their families, friends, coworkers and event pets participated, resulting in nearly 7,000 tweets and more than 500 photos submitted to the official Put On Purple Tumblr (not including the hundreds more posted on Twitter, Instagram, and Facebook!).
Thanks to all of you and your efforts, Put On Purple went global. We received photos from all over the world, from Brazil to New Zealand. A special thanks to Kathie Lee and Hoda (NBC's Today Show), Robin Roberts (Good Morning America), Norah O'Donnell (CBS This Morning), the teams from CNN Impact and CNN's Anderson 360, and many local journalists who Put On Purple to support the cause.
Around the Country
In addition to hosting multiple Walks, education and awareness events during the month, our Chapters lit landmarks around the country purple. This year, Niagara Falls (Philadelphia Tri-State Chapter), Baltimore City Hall (DMV Chapter), Tower of the Americas in San Antonio (Lone Star Chapter), the Walt Disney Sway and Dolphin Hotel in Orlando (Florida Chapter), and many others were lit for the first time for lupus awareness!
We were proud to bring the Help Us Solve the Cruel Mystery™ tour bus experience to downtown Indianapolis this month as well! Thanks to the Indiana chapter, the bus visited the Indianapolis State House for an awareness day on May 9th. Visitors, including Indiana's Secretary of State, First Lady, and Health Commissioner came out to see the interactive exhibits and learn more about lupus.
It Doesn't Stop Here
Though Lupus Awareness Month may be over, our efforts continue year-round with your help. Stay connected with us on Facebook, Twitter and online at lupus.org for the latest in lupus. Do you have ideas for next year? Want to volunteer to conduct awareness outreach in your community? Email us at .(JavaScript must be enabled to view this email address) and thank you all again for your support!
---
Related Stories
We are proud to unveil the new Lupus Foundation of America website. Learn more about the new features we have in store for you!